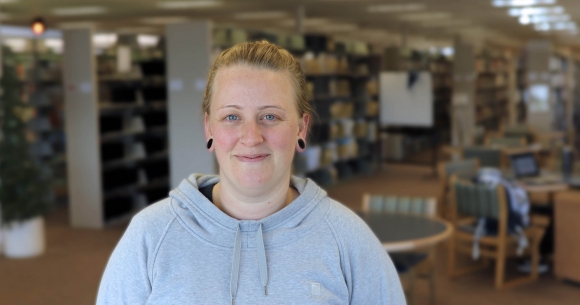 Single Mother Finds Support, Appreciation and Education She Needed at CSM
Brenna Timewell, 32, was living in a rented bedroom with her two children and a dog while working full-time and trying to go to school in California. She thought there had to be a place where she could attend classes and live at school with her children, Miles, 6, and Kendall, 4.
That's when she searched the internet and found College of Saint Mary. The university has offered single mothers on-campus housing since 2000. A $10 million dedicated residence building – Madonna Hall – was built for the Mothers Living & Learning (MLL) program in 2012.
"I'm going to be honest I didn't even know where Nebraska was on the map," said Brenna, who moved to Omaha in fall of 2021. "I'm just going to try this out, and everything worked out. It's like I was meant to come."
The family of three has found their home in the residence hall. "The dorms are a lot of space. Coming from a bedroom with all of us, it's so much more space than I'm used to having," Brenna said. "My kids got their own room, and I have a room that's a playroom. It's an opportunity for them to have the things I feel kids should have and that they deserve that they weren't able to get in California.
"For me, it's a dream come true for them."
Brenna had worked most of her adult life in retail, moving her way up to management at each company she was employed. "But then I would just burn out," she said. "This wasn't what I wanted to do. I would just leave and go somewhere else."
After losing her job at the beginning of the COVID pandemic, Brenna decided to take college more seriously. Nursing was always at the forefront of her mind. But at 32 years old, she wasn't sure the opportunity would be there for her.
"I felt like I had missed the mark," she said. "Looking back now, I feel like I'm in a much better position being 10 years older than I would have been. I don't think would have been able to reap the same benefit 10 years ago versus what I'm doing now."
Now, Brenna is in her second year of nursing and a junior at CSM. She is interested in being a nurse in neuropathy or labor and delivery but is open to anything the new career might bring her. "I think that there is so much more I'm going to get exposed to throughout the program that I'm super excited about, too," she said.
She said the small atmosphere is what she enjoys most about the college. "I didn't realize how much I would like that until I came here. Everybody knew my name, I felt well respected, and I felt like I just had a place I could focus."
The support the single mother has received at CSM has been tremendous. In California, she had to be a "super mom," she explained. Here, she has a sense of relief. "Specifically for girls with children, I feel like the support that can back you up here is like nowhere else I've found," she said. "The overall
atmosphere in general, the small class sizes and the fact that people genuinely want to see you succeed and work with you. I've met some of the best professors here that I've met anywhere."
In addition to her classes and role as a mom, Brenna finds time to work in the copy center, Student Achievement Center and the campus bookstore. "Everyone knows me because I'm quite literally everywhere," she said.
In November, Brenna was honored by the Student Senate with the Job Well Done Award. Brenna said it felt good to be recognized. "I think for anybody, I think they can say it feels good to be acknowledged. But it feels exceptionally good for me to be acknowledged because I kind of feel like I wasn't acknowledged for years," she said through tears. 
By: Leeanna Ellis