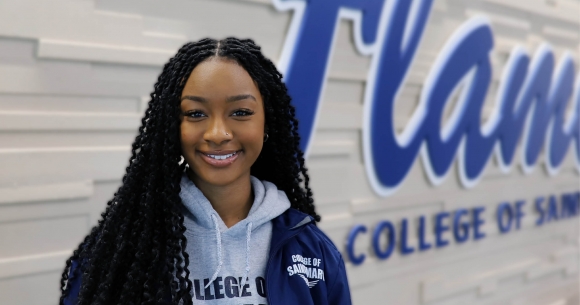 Persistence Leads CSM Junior to Success on Track
Kinesiology and Exercise Science
Two years after attending college in Kansas and transferring to a community college in Arizona, Dazjae Grayson was looking for another university to earn her bachelor's degree. "I wanted to be somewhere smaller so I could focus on my studies and still be able to run track," the San Tan Valley, Ariz., resident said.
When College of Saint Mary's former track coach and current dance coach reached out, Dazjae took the opportunity to participate in both sports. "I like how everyone is welcoming and nice here. It's comfortable for me."
In her first year on campus, Dazjae balanced two sports – competitive dance and track. "At first, it was extremely difficult because there was a lot to balance," she said. "Waking up early and having two practices a day was a lot. But after about a month or two of getting a conditioning routine, it got pretty easy.
This year, the junior decided to participate in just track. She ran the 60-meter dash for the indoor season and the 100 and 200 for the outdoor season.
Before the start of the 2022-23 indoor track season, Dazjae had to overcome difficulties. But coach Jerrid Johansen said Dazjae persevered over winter break, and she's now an all-conference athlete.
"Dazjae's journey to an all-conference sprinter is amazing and unlikely," he said. The first meet in December was her first competition in more than four years, and it went well. From that point, she was all in and willing to do whatever was necessary to keep improving. Her times just kept getting faster and faster with each race she ran. It takes a lot of maturity and persistence to go four years without racing to become an all-conference athlete, and I don't think there are many people out there who could do what Dazjae did."
Dazjae credits her coach for helping her succeed. "I love coach Johansen. He is amazing. He's really good at making sure our schoolwork is good, our mental health is good, and our overall well-being," she said. "That's all I can ask for in a coach."
Dazjae is seeking a degree in kinesiology and exercise science before pursuing a master's degree in athletic training. Her biomechanics class has allowed her access to the University's new human performance lab, where faculty and students engage in hands-on research. Dazjae also participated in an internship at StretchLab, a one-on-one assisted stretch facility where she works.
Dazjae is grateful she chose CSM for her college career and encourages others to attend. "It's a small school, and it's easy for you to focus on schoolwork. It's easy for you to make friends. It's easy to go to your teachers one-on-one, especially with your coaches. I feel like the staff cares about you too."