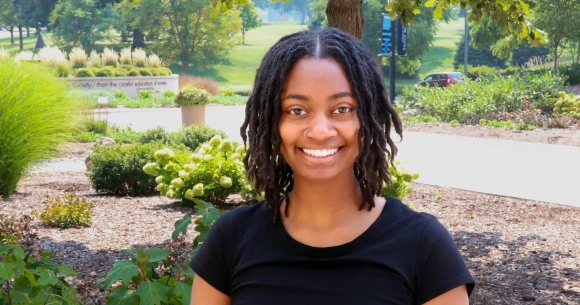 Omaha Resident Reaching Goal to be a Nurse through CSM's PNC Program
Practical Nursing Certificate
Diauvion Conner knew from a young age that she wanted to be a nurse.
"Since I was a little kid, I've gotten a lot of compliments about how I've always been helpful. I've always had this nurturing personality that I wanted to apply," she said. "That's when I learned about healthcare, and I wanted to help people."
The Omaha Westside High School graduate is a student in College of Saint Mary's Practical Nursing Certificate program, which is a one-year curriculum to become a Licensed Practical Nurse. She'll receive her certificate in May before heading back to class next fall to earn her Bachelor of Science in Nursing.
"I really liked how College of Saint Mary was a small school, very personal and how they offered a lot of good scholarships and resources," Diauvion said. "It's also easy to get involved here."
She also appreciates the relationship she has built with her professors, who are "very approachable."
"It's really personal," Diauvion said. "They know me. They're always there for me, and they always let us know that."
In addition to attending class, Diauvion is a certified nurse's assistant at CHI Health Immanuel Hospital in Omaha. Working as a CNA has helped Diauvion explore possibilities for her as a nurse. She would like to work in rehabilitation with stroke patients.
CSM has also offered opportunities to learn by hearing from alumnae and other nurses about what to expect in their career field.
"I feel like it's beneficial and helpful," Diauvion said. "They'll tell you how it is.