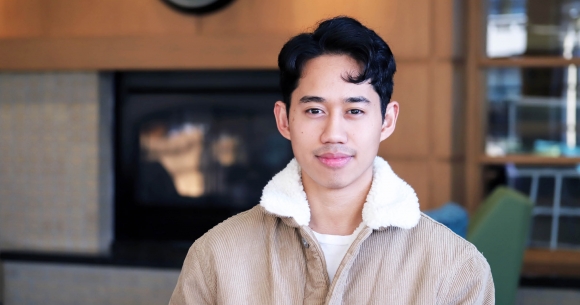 OTD Student Found His 'Fit' at CSM
Occupational Therapy Doctorate
Three years into his undergraduate degree in computer science, Dmieflur Hunter realized he wanted to do something different. "I had a friend who introduced me to occupational therapy," Dmieflur said. "He said this would be a good deal for me. It's very hands-on and people-friendly."
Dmieflur completed a degree in exercise science and began looking at graduate schools. "I wanted to stay in Omaha," he said. "I chose College of Saint Mary because I wanted a more close-knit community. When I had the interview, it was very personal and one on one. I think it was a better fit for me."
CSM's Occupational Therapy Doctorate program focuses on the development of clinical practice skills, research skills, administration, leadership, program and policy development, advocacy, education, and theory development. In addition, students must complete two 12-week fieldwork experiences along with a 14-week doctoral experience that culminates in a scholarly project.
Dmieflur appreciated the resources afforded to him through the program, including mentors. "That has helped me learn a little bit more and get myself together in classes," he said. "Having a mentor guide me through the classes has helped."
Dmieflur spent some of his fieldwork at a hands clinic in Grand Island, Neb. "It was nice to be with a patient for my whole duration," he said. "I saw the process of them healing. I actually did something for this person with their broken arm, their broken wrist. That was a cool component."
Studying to be part of a medical career differs much from the computer science degree Dmieflur originally sought. But he's found he enjoys it. "Being with people boosts your confidence. You're able to interact well, communicate well, and know what the patient wants without them telling you or have empathy to feel from them because they are struggling in their life and want to get better."
Dmieflur will complete his doctoral experience and capstone project in Des Moines, Iowa, focusing on virtual reality with veterans. "I'll be helping them with different things," he said. "It could be their mobility with their upper or lower extremities, their balance and their gait."
He said virtual reality can also be used with wound management in behavioral and learning aspects.
Dmieflur, who will graduate in May, has an interest in orthopedics and inpatient or outpatient clinics. "For inpatient, you see a lot of different things. You don't know what's going to come through the door," he said. "I like getting people back on track in their daily lives if they have back surgery or knee surgery."
By Leeanna Ellis