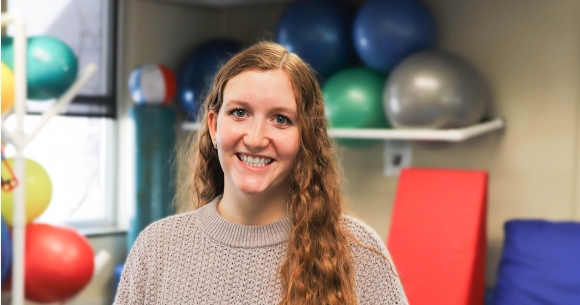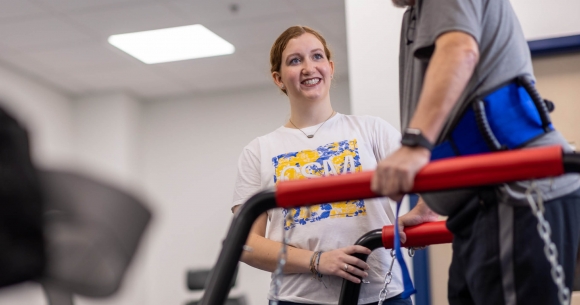 CSM Offered the Right Path for Graduate Student
Occupational Therapy Doctorate
During high school, Elisabeth Weatherly had to undergo double hip surgery, which required her to go through rehabilitation. That's when she discovered occupational therapy – the hands-on career the Millard South graduate sought.
Elisabeth began looking at colleges that offered an OT program. When she toured College of Saint Mary, she learned she was eligible for the accelerated entry pathway for undergraduates CSM offers for its OT program.
"That was a big thing for me," Elisabeth said. "I decided to come here because I could already have my path lined up. I liked that there was an easy connection between undergrad to grad school. There weren't separate applications, and I wouldn't have to move locations. It was all in the same place."
Elisabeth also chose CSM for its small class sizes.
"The professors, faculty and staff all care about you. Walking in the halls or walking on campus, you always get someone saying hi to you," she said. "I loved that the class sizes weren't super big, so for me, it wasn't going to be a huge change from what I was used to in high school. Going to college is already a big enough change, so I didn't want to attend a lecture with 300 people."
Elisabeth majored in kinesiology and completed her undergraduate in just two years in May 2022 after earning her associate degree in high school. She enjoyed the kinesiology program and all it had to offer.
"I liked the research classes. It prepared me for the research we're now looking at in the OT program," she said. "I have good background knowledge from the kinesiology program."
CSM's Occupational Therapy Doctorate program focuses on the development of clinical practice skills, research skills, administration, leadership, program and policy development, advocacy, education, and theory development. In addition, students must complete two 12-week fieldwork experiences along with a 14-week doctoral experience that culminates in a scholarly project.
OT helps patients get back to what they love to do or have to do in life, whether playing with their children or doing household chores. "It gets you to be as independent as possible," Elisabeth said. "It can help you improve your quality of life in general."
Now in her second semester of graduate school, Elisabeth knows she made the right career decision with OT.
"I love it. My professors and my classmates are so encouraging. They're like my best friends. We're all in this together," she said. "I love that I'm able to go and talk to any of my professors or any of my peers about any questions or concerns I might have. It's such an amazing experience."
Elisabeth initially thought she wanted to work in pediatric OT. But now that she's learning about other aspects of the profession, she's open to the possibilities.
"I'm excited to touch different settings to figure out what I like," she said.
While balancing her undergraduate and graduate schoolwork, Elisabeth has been a member of the Flames competitive dance team.
"The dance team is a lot of fun. I don't have to worry about going to the gym. That is my exercise. I just love being able to go practice and have fun," she said. "It is sometimes difficult. We have practice in the early mornings. I go straight from practice to class. Sometimes that's a little rough. But I wouldn't trade it for anything. The struggle with balancing is worth it."
She was also involved in the Spanish Club, Student-Athlete Leadership Team, and is president of Student Occupational Therapy Association.