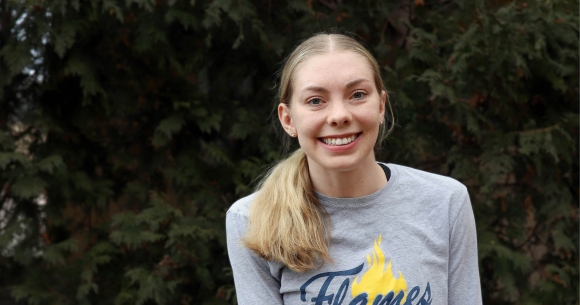 CSM offers opportunities close to home for Gilbert
Staying in the Omaha area was an important factor for Emily Gilbert when choosing where to attend college. "My parents raised me here, and they still live here," she said.
The Papillion-La Vista High School graduate found College of Saint Mary, located in the heart of Omaha, which provided the opportunities she desired. Gilbert, now a junior, was awarded the University's prestigious Marie Curie Scholarship, which provides significant support and resources to outstanding young women pursuing STEM majors – biology, chemistry, math, or human biology.
Marie Curie Scholars receive up to $20,000 annually for four years in gift aid. In addition to having access to substantial financial resources and facilities, participants also receive free tutoring, have opportunities for undergraduate research, and have access to top programs like the National Institute of Health and NASA research fellowships.
Emily is double majoring in biology and chemistry. Her role as a Marie Curie Scholar has afforded her several opportunities, including completing research on different strains of Staphylococcus at the University of Nebraska Medical Center.
Emily is also a member of the Flames volleyball team. "I enjoy being on the volleyball team," she said. "We're a very tight-knit group. It makes it a lot of fun." The Flames have qualified for the national tournament for the past two years.
Balancing the workload from her classes and volleyball practice and games can be challenging. But Emily has found support from her classmates. "I've made quite a few friends who are biology and chemistry majors," she said. "We will spend time together. After dinner, I will go to the library, and we'll sit together and study."
This summer, Emily plans to begin applying to graduate schools to become a pharmacist. She wants to continue to stay in Omaha. "I would like to work at a hospital in a pharmacy, but I would like to be able to be in a position that has the flexibility to allow me to work in the lab as well," she said. Emily is interested in immunology.