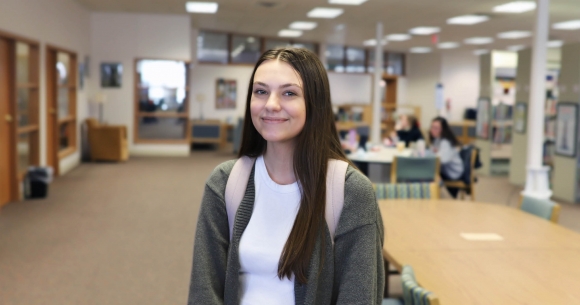 I Feel Like I Know Everybody Here
On any given day, Grace Rooks can be found heading to class, giving a tour to prospective students, helping students in her role as a resident advisor, or participating in one of the several organizations she is involved in.
The College of Saint Mary (CSM) junior stays busy.
In addition to her classes, Grace is chairwoman of the campus issues committee on Student Senate, president of the student campus ministry group Do Unto Others, vice president of the Pre-PA Club, secretary of the eco-friendly Green Team, serves as a presidential ambassador and works part-time in enrollment.
"Coming here not knowing anybody was really scary, so I thought I've just got to get really involved to meet as many people as I can," Grace said. "It worked. I feel like I know pretty much everybody here."
Grace chose CSM for its Physician Assistant Studies program after attending the Health Systems Academy at Papillion-La Vista South High School. She applied to CSM at the suggestion of one of her professors.
"While I was (at the academy), I just thought about what programs I wanted to be in. I shadowed a PA, and I loved it," she said. "I think this is what I want to do. It's more of a work-life balance than a doctor. I'm more of a collaborative person, I just like bouncing ideas off people. That's what a PA is. It's more of a collaborative role."
CSM's Physician Assistant Studies program includes three years of undergraduate classes and two years of graduate school. Grace has extended her undergraduate to four years after adding three minors: sustainability, psychology and chemistry.
"I really like sustainability. That's always interested me, and so has psychology. Those are just for extra background information, knowledge and fun, I guess," she said.
She also extended her undergraduate time to serve as a resident advisor.
"I really enjoy being an RA on campus. I like supporting the younger students here and just helping them on their journeys," Grace said.
Lori Boyle, Grace's residence life supervisor, said Grace is a good role model for students with her dedication to her studies and her involvement in student organizations.
"Grace is approachable, friendly and confident to speak up and be a leader," Boyle said.
This also makes Grace an ideal RA, she explained.
"She is reliable, has great communication skills, knows the Residence Life policies well, and she enjoys engaging with residents and encouraging involvement," Boyle said. "She understands that while she is responsible for holding residents accountable to policies, she is also a vital resource for them for any academic or personal challenges they may face, which can be difficult, but she's established a good balance."
When she's not on campus, Grace can be found at Think Whole Person Healthcare, where she works as a CNA. The job allows her to earn hours for her major, while gaining experience shadowing women's health physicians and physician assistants.
"Those are my favorite ones to work with," said Grace, who hopes to work as a traveling PA in women's health. "It's just really interesting to see all parts of the job and get a glimpse into what I want to do in the future."
During campus tours, prospective students often ask Grace why they should attend CSM. She has a simple answer.
"The community here, it's very tight-knit," she said. It's that community that Grace credits for helping her grow.
"Coming here with the small class sizes, it's more comfortable," she said. "You feel like your professors hear you, you feel like they answer your questions. It's more of one-on-one learning, and I really enjoy that, especially for STEM majors with harder classes. You get those relationships with your professors that they're able to help you."
By Leeanna Ellis