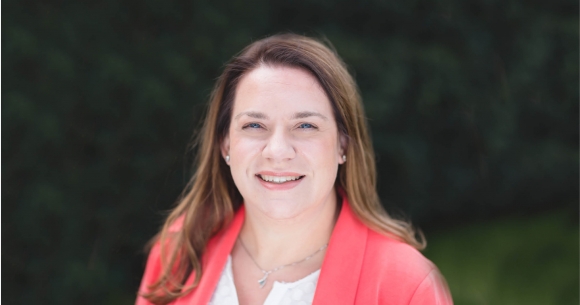 Nursing Professor Relates to Her Students, Helps Them Achieve Goals
Director of Practical Nursing Certificate Program
In her 10 years at College of Saint Mary, Dr. Jennifer Kuchta has enjoyed watching her students in the Practical Nursing Certificate program achieve their dreams.
"Most of these students have, somewhere in their life, been told that they're not going to make it. It's not for them," Jennifer said. "They've had so many struggles thrown at them, yet they still want to accomplish their goal and be a nurse."
Jennifer, assistant professor and director of the PNC program, can relate to her students. She was told she wouldn't make it, either.
"I love watching these women take some of the same paths I did and succeed in the classroom," she said. "Watching them grow is amazing."
CSM's Practical Nursing Certificate program provides hands-on experience through the University's multi-million-dollar, state-of-the-art health professions skills and simulation center. It also expands their skills in a wide variety of clinical experiences.
The program, which allows students to become licensed practical nurses in just one year, is small. There aren't more than 36 students. That allows Jennifer and the other instructors to get to know their students one-on-one.
"They can come to see us for anything they need – school, personal, whatever it might be. Our offices are open, and we can help them, which I think is unique," she said. "You don't get that anywhere else."  
Jennifer was inspired to become a nurse by her sister, who was diagnosed with the rare and terminal Rasmussen's Encephalitis as a child. She died when she was 15. "She was in and out of the hospital all the time," Jennifer said. "Working in healthcare is all I ever knew."
Jennifer earned her associate degree in nursing from Northeast Community College. After relocating to the Georgia-Florida area with her husband, who was in the U.S. Navy, Jennifer earned her bachelor's degree from Jacksonville University.
After moving to St. Louis, Mo., Jennifer entered graduate school. "They desperately needed nurse practitioners, so I was selected as one of a group of six, and they sent us to Barnes-Jewish College of Nursing to get my master's degree as a neonatal nurse practitioner," she said.
When Jennifer and her family returned to Omaha, she began working in the NICU at Children's Hospital. "Eventually, I transitioned over to teaching," she said.
Jennifer earned her master's degree in business administration from Kaplan University and her doctorate in education from CSM.
Jennifer came to CSM as an instructor, following Dr. Mindy Barna, associate dean for health professions, who she had previously worked with.
"I just liked the feel of the campus and what we stood for and the things happening here," she said. She became the director of the PNC program in 2019.
Jennifer said she likes working with students in the classroom and the lab. She also likes getting them involved on campus.
"Just watching them go from the student who is shy and doesn't know anything and is scared to do something to sitting in the classroom going, 'I got it, I understand it,'" she said. "And watching them go off and graduate and do well in the world is really empowering."