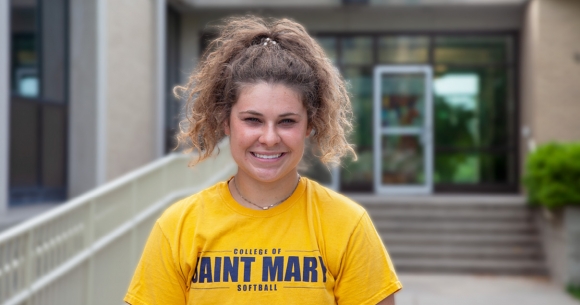 CSM Senior's Love of Animals Leads to Desire to be Veterinarian
Pre-Health: Veterinary, Biology
Macy Homes has always loved animals. "I have two dogs – a German shepherd greyhound mix rescue and a Shih Tzu poodle," she said.
And she's always wanted to be a veterinarian. So much so that she lists "future veterinarian" on her resume. The College of Saint Mary senior has gained experience working for her hometown vet clinic for the past five years. "I just love it. I work on cows, horses, dogs and cats," said Macy, a biology major. She's also seeking minors in chemistry and business.
Macy chose CSM after her sister attended the university. She loved the small campus and how the professors know her name. She found opportunities, both academically and athletically. Macy is a catcher and third baseman for the Flames softball team. She was recently named All-GPAC Conference First Team, All-Midlands Softball First Team and CoSIDA Academic All-American District 3 First Team. "I think it's fun to be part of a sports team because you just have built-in friends," Macy said. "You always see them around campus, or they'll eat lunch with you or sit with you in the library."
Macy admitted that balancing both academics and softball was difficult at first. "I'm in the library literally all the time. I study on the bus," she said. "I'm pretty good at balancing all of that now."
In addition to the softball team, Macy has also served as co-coordinator of the Elementary Science Outreach Program, which brings exciting, hands-on activities to classrooms at Omaha metro area schools. The program is meant to expose children to science-based activities and basic scientific equipment. Activities are geared toward students in grades K-2 and 3-5. A NASA Nebraska Fellowship Grant funds Macy's position. She works with student volunteers to schedule the activities, which two to three volunteers lead. Macy enjoys teaching the younger students about science. "This program teaches me new things every time I'm in a classroom," she said. "I didn't know a lot about ecosystems. I actually learned from the program, too."
Macy also serves as the secretary for the student campus ministry group DUO (Do Unto Others) and is a Math & Science Club member. She is in the Walk Tall Honors Program and was nominated as a freshman and a sophomore for the Heart of the Walking Woman honor.
Following graduation, Macy plans to attend veterinary school. She's currently applying to schools, including the University of Nebraska-Lincoln's program with Iowa State University, Kansas State University, the University of Minnesota and the University of Missouri.
"I actually hope to own my own vet clinic," she said. "I want to call it Miracle Hands Vet Clinic."
By: Leeanna Ellis