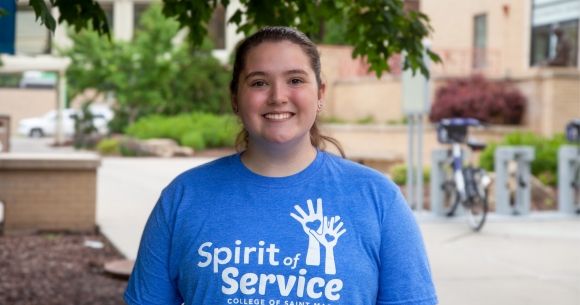 CSM Senior Created Opportunities to Get Involved
Macey McGargill will be honest. One thing drew her to College of Saint Mary: "The free backpack," she said with a smile. On a day off from classes, she and some of her friends from Mercy High School in Omaha toured CSM, which gives backpacks as a gift to high school seniors who visit. "I just fell in love with the campus," Macey said.
During the tour, Macey saw Sr. Judy Pat Healy, who served as her Mercy mentor in high school. "Macey, you would fit perfectly here," she told her. "Your leadership skills would flourish."
"It just really caught my attention," Macey said. "And it's a Mercy school, so it had a place in my heart."
Macey, now a senior at CSM, took Sr. Judy Pat's advice, enrolled and immediately got involved. She took a chance, applied and was accepted onto the Campus Activities Board. She's now an executive for the organization. "It was a gateway for me to succeed in leadership."
For the last year and a half, Macey has served as an executive on the Student Senate, which helps create, promote and encourage a sense of cooperation between students, faculty and administration. "I like how CSM has an opportunity for students to have a voice to get things done," she said. "I wanted to be a part of that. Making the change."
Macey, majoring in biology and minoring in environmental sustainability and music, has also served as vice president of the STEMinist Club and is a member of the Budget Committee, CSM Singers and Spanish Club. She's a resident advisor and a summer coordinator.
This past semester, Macey, who was wanting to host some music activities, founded Creative Twist, a fine arts club, on the suggestion of Dr. Chris Krampe, director of humanities and fine arts. Macey promoted the club in her fine arts classes and during choir, and it has gained interest and 15 members so far. The group attended the Omaha Symphony last spring.  
Macey is grateful for the opportunities CSM has afforded her. "No matter who you are, you see all the different kinds of people involved in doing things they love," she said. "I found an opportunity to find something I think CSM needed, and I brought it here."