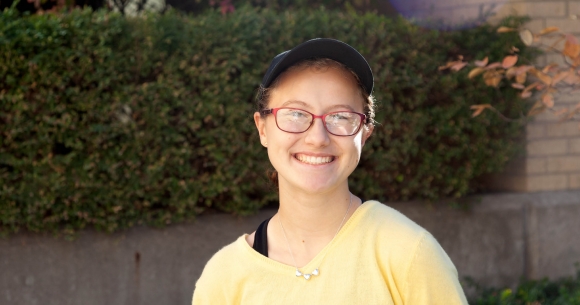 Junior Grows Passion for Environmental Science at CSM
Madeline Krause's high school honors physical science teacher was passionate about the environment. "It sparked my interest," the College of Saint Mary junior said.
Madeline, double majoring in biology and chemistry and minoring in environmental sustainability, has always liked science. Despite exploring other fields, she kept coming back to environmental science. "Recently, I've been looking into soil sciences. Anything surrounding the conservation of natural resources and resource management," she said.
The Omaha Central High School graduate was considering CSM for cross country and track when she received the Marie Curie Scholarship. The scholarship provides significant financial support and resources to outstanding young women pursuing STEM majors – biology, chemistry, math, or human biology.
Marie Curie Scholars receive up to $20,000 annually for four years in gift aid. In addition to having access to substantial financial resources and facilities, participants also receive free tutoring, have opportunities for undergraduate research, and have access to top programs like the National Institute of Health and NASA research fellowships.
Madeline knew CSM was the right fit for her. "When I took the campus tour here, the person who gave it was nice," she said. "I liked that the campus was smaller, but it still had everything else that a larger university had. Everyone was so friendly. The energy was good."
In addition to athletics, Madeline got involved on campus, joining Student Senate, which creates, promotes and encourages a sense of cooperation between students, faculty and administration. "I wanted a way to talk to faculty and staff members, too. I feel like Student Senate is a way to talk to everyone and get to know people."
Madeline is the Student Senate representative on the institutional committee for sustainability, serves as the chairperson for campus issues, and is a member of the Animal, Plants and Nature club.
Madeline said she would recommend CSM to anyone. "It's hard to find a university like CSM because you get professors who truly care about your well-being and how you're doing in their class," Madeline said. "At other larger universities, chemistry is seen as a weed-out course or all these different classes like physics are seen as difficult, and they are, but CSM faculty is truly there to help you. You're not just another number in the classroom."
By Leeanna Ellis