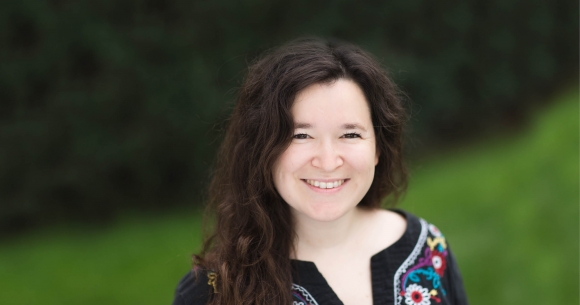 Student Leadership Director Hopes to Make an Impact at CSM
Director of Student Leadership and Inclusive Programming
When Marisa Mathews was a North Dakota State University college student, she had several mentors who were invested in her future. As director of student leadership and inclusive programming at College of Saint Mary, she hopes to provide that same mentorship to students.
"Especially at CSM, where we get those kinds of one-on-one interactions with students, it is helpful to see where they want to go in life and what kinds of things they are interested in and help them get to those places," Marisa said.
Marisa was completing a year of service with AmeriCorps when she began thinking about what she wanted to do next in higher education. She received her bachelor's and master's degrees in sociology from NDSU and was looking for a position that would allow her to use her skills. She learned about the position at CSM and had heard good things about the University from her cousin, who had attended for her nursing degree.
"The position blended my love for sociology and thinking about what kind of barriers might affect underrepresented students, as well as my love for leadership and pushing students to be their best selves," said Marisa, who began her job on July 5.
At CSM, Marisa found a tight-knit community where she enjoys getting to know her coworkers and the students. "I just enjoy that it feels like a community and a family here because that's what fills my cup and what is enjoyable about this place," she said. "I enjoy just getting to know the students. Seeing what they're doing is always the best part of my day."
In her role, Marisa oversees student organizations and works directly with students. "It's fun. They always have many ideas for events. I like when they get excited about a particular project," she said. "They are always willing to put in 110%. That's energizing to see, and I am energized to do the work, too, because they are so passionate about it."
Marissa hopes to impact students, allowing them to be entrepreneurial and dive deeper into their hobbies and interests. She said it gives them the space to be creative and take on leadership positions. "Whether or not they're in an actual executive position in a student organization, they're still leading with different projects or tasks," she said. "They're learning how to delegate and manage time, all the things that are transferrable to your career and just general life skills. That's important."
Outside of work, Marissa enjoys playing soccer. She recently joined an indoor league. She also plays Dungeons and Dragons with friends and loves watching movies. She shares that with students, picking a movie of the month that she writes on the whiteboard in her office. "That's just a fun little way to bring my interests into the workplace," she said.