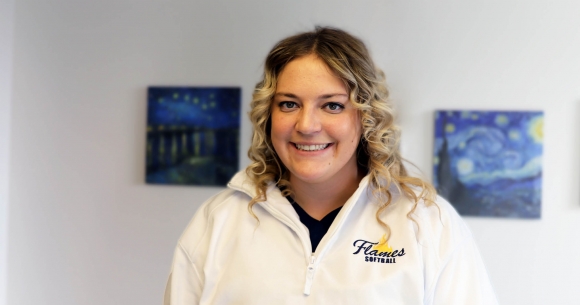 Senior Followed in Her Sister's Footsteps to College of Saint Mary
Early Childhood Education
Micki Larsen didn't have to look far for inspiration for her college decision. The Waverly High School graduate followed in her sister's footsteps to attend and play softball at College of Saint Mary.
When Nicki Larsen '18 attended CSM, she often talked about her experience, including the close-knit community she likened to a family.
"She always talked about the professors and how they create relationships with the students, and they make them feel that anything they needed help with, they could come to them," Nicki said. "I wanted that."
Once on campus, Micki said CSM was everything her sister had said it would be. "And it was way more than I ever thought it would be," she said.
Like her sister, Micki is a pitcher for the Flames softball team. Micki's parents, Todd and Vicki, pushed their daughters to be strong in academics and athletics. They also wanted them to recognize that not all athletes continue to play in college. However, the sisters were determined to make it a reality.
"That was always a dream for us," Micki said. "When we got offers to come here, it was very exciting."
Micki's first year of softball was cut short by the coronarvirus pandemic. "Coming back after COVID was a little tough," she said. "It made my game better because it challenged me even more." As a sophomore, she had to adjust to pitching against the more competitive hitters she was now facing.
Micki has enjoyed the closeness and family atmosphere of the softball team. She's a leader on this year's young squad. "We're almost like sisters. Sometimes with sisters, you push each other to get better even though you don't want to be pushed sometimes," she said. "With us being young and as close as we are, the more games we play, the better we'll be."
The senior is hoping to play yet again this fall as she finishes her degree in early childhood education. Micki initially majored in nursing but realized it wasn't for her.
"I liked working with kids and encouraging them to better themselves. I chose teaching," she said. "What better way to promote students to become future leaders than as a teacher?"
Education majors must complete field experiences as part of their studies. Micki has spent time with preschool and third-grade students in Elkhorn and kindergarten and third-graders at Saint Gerald Catholic School in Ralston. In the classroom, Micki has seen firsthand how much thought and work teachers put into their lesson plans and how they encourage students to learn and help them be successful.
That's been valuable for Micki.
"They always have a little more tips and tricks because they've seen students and how each student learns differently," she said. "I've been able to take in all that information and build my resources. I've created a little toolkit for when I become a teacher to use and help students learn."
Micki is expected to graduate in December.
By Leeanna Ellis