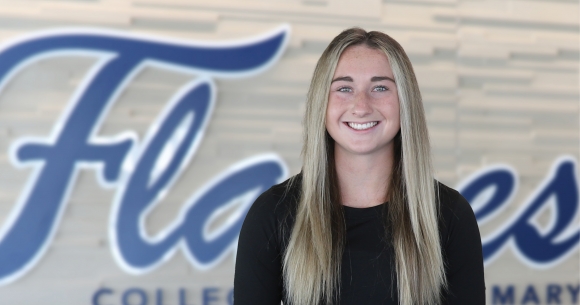 Cushing Finds Success on the Court and in the Classroom
Rachel Cushing's two older sisters played soccer at the collegiate level. It seemed likely she would, too. "I grew up with it my whole life," she said.
But a phone call from College of Saint Mary volleyball coach Rick Pruett changed that. He wanted the Lewis Central High School graduate to serve as the libero for the Flames. "I liked the volleyball team. I liked the coach. I just thought it was a good fit all around."
Now a junior, Rachel was a member of the Flames team that qualified for the NAIA National Championships in 2021. "I want to continue to progress and become stronger as a team and hopefully get to that national level again and make it a little further," the libero said. "It's just going to take consistency throughout the whole season."
Rachel spends most of her time with her volleyball teammates. The group gets along well, which builds chemistry and trust and translates to success during the season. "We're with each other a lot off the court, and it just carries to on the court."
When she's not on the court in the Lied Fitness Center, Rachel is busy in the classroom. The biology major, seeking either a pre-med or pre-PA route, was awarded CSM's prestigious Marie Curie Scholarship, which provides significant financial support and resources to outstanding young women pursuing study in STEM majors - biology, chemistry, math or human biology.
Marie Curie Scholars receive up to $20,000 annually for four years in gift aid. In addition to having access to substantial financial resources and facilities, participants also receive free tutoring, have opportunities for undergraduate research, and have access to top programs like the National Institute of Health and NASA research fellowships. Marie Curie Scholars also often attend and present at national conferences.
"It felt amazing to receive the scholarship because I knew I'd be going to graduate school," Rachel said. "It was a relief from that financial burden."
Balancing a busy volleyball schedule with intense coursework can be a challenge. However, professors are willing to work with athletes who must miss class due to games or traveling tournaments. Volleyball is a release for Rachel from an academic standpoint.
In addition to her role on the volleyball team, Rachel is co-coordinator of the Elementary Science Outreach Program, which brings exciting, hands-on activities to classrooms at Omaha metro area schools. The program is meant to expose children to science-based activities and basic scientific equipment. Activities are geared toward students in grades K-2 and 3-5. A NASA Nebraska Fellowship Grant funds her position.
She is also the Student-Athlete Leadership Team president and in the Walk Tall Honors Program.