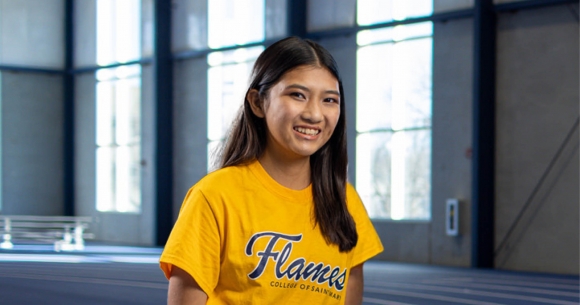 Dubai Native Finds Success on the Court and in the Classroom at CSM
Dubai, United Arab Emirates
Renee Acena has a competitive drive to win. As an 8-year-old, the College of Saint Mary (CSM) sophomore began playing recreational tennis with friends in her hometown of Dubai, United Arab Emirates. But during weekend tournaments, the group picked up very few wins.
"That's when my sister and I told my parents that we don't want to lose, and we want to win," Renee said. "So, we kept increasing the training sessions and eventually won some. Eventually, we transitioned to (play) competitive."
The switch paid off as Renee and her older sister, Bea, now play competitively in college. CSM recruited Renee after her father posted a video of her playing on Facebook. CSM had the opportunities Renee was looking for, both athletically and academically. A campus visit confirmed she was ready to move to the U.S. for the next four years.
"At first, I was just nervous and excited, but more nervous because it's college. It's a new chapter," Renee said. "But I think talking to a lot of people and asking questions helped me be comfortable here. My roommate helped me get out of my comfort zone."
Still, Renee had to adjust to studying in a new country, including becoming accustomed to different teaching styles than she was used to in Dubai.
"That caught me off guard a bit," she said. "In Dubai, it was different in terms of everything we must learn in a semester. Here, it is spaced out well, so you get to understand little by little and take your time."
Renee knew as a child that she wanted to be a nurse after learning about Florence Nightingale, the founder of modern nursing, in a history class. However, a fear of needles and the potential for a heavy workload caused Renee to doubt herself. She instead chose to focus on biology. Encouragement from family members who are nurses led Renee to change her major.
"I was convinced I could do this; I can handle this," she said.
The CSM sophomore is also having a fantastic year on the tennis court. In September, Renee won the Intercollegiate Tennis Association (ITA) Central West Regional Championship, which includes Nebraska, Kansas, Oklahoma, and Texas. The win guaranteed her a spot in the 2021 ITA Cup National Tournament in Rome, Ga., this past October.
Renee always keeps a positive attitude as she enters a match. "For competition, I just go in there with the mindset to have fun and do my best," she said. "If I lose, it's OK; it's not meant to be. If I win, I keep going and stay positive every time. I get feedback from my coach and my family, which is helpful."
Renee had to adapt to Nebraska's four-season climate, far different from the constant heat and humidity of Dubai, which is located along the Persian Gulf in the Middle East.
"I like (playing) here because the wind helps me breathe easier," she said. "I also don't like the wind because it carries the ball everywhere on the court. It's hard to time it, and it's hard to attack when you play."
"There's not a lot of wind in Dubai, just a lot of heat," Renee said.
She hopes to see continued success on the court with support from her family, teammates, and coaches. She often compares notes with her sister, Bea, a junior on the Alabama State University tennis team.
"We mainly talk about our results," Renee said. "We talk to each other for advice and what we can improve on and what we feel like. That's what's cool about it. She's more experienced, and she's in a tougher conference."
Renee's parents, who are citizens of the Philippines living in Dubai, have not yet seen her play in person. Instead, her doubles partner's parents record the matches for them to watch.
"I made a deal with my parents before that if my sister or I reach a conference final and win it, they have to come and watch," she said. "That's our main goal."
In the meantime, Renee has continued to work hard in the classroom to reach her ultimate goal of becoming a nurse. "I really love kids, so I feel like when I become a nurse, I want to go into pediatrics," she said. "I'm excited about the future."
By Leeanna Ellis