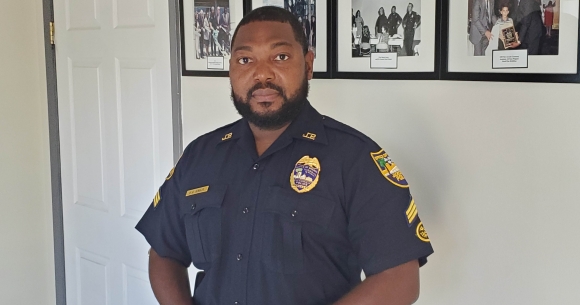 Police Officer Seeking to Grow Skills through MSOL Program
Master of Science in Organizational Leadership
Growing up in a low-income neighborhood, college seemed out of reach for Richard Hendley. Most of his friends, as well as his brother and sister, didn't graduate high school.
But the Jacksonville, Fla., man, who didn't learn to read until sixth grade, was determined. He wanted to work in law enforcement, which would require a degree. "I didn't know how I was going to do it; I just knew I wanted to," he said.
After obtaining an associate's degree in criminal justice from a local community college, Richard attended the police academy. He began working for the Jacksonville Sheriff's Office in 1996, becoming an officer in 1999. He later earned a bachelor's degree in public administration. "I wanted to attain more," he explained.
Now, the police sergeant hopes to improve his skills as a leader to mentor others through College of Saint Mary's Master of Science in Organizational Leadership (MSOL) program.
The MSOL program offers graduate students a significant opportunity to bring new value to their current future employment. It's a fully online, 30-credit program that can be completed in one year, on a full-time or part-time track. The curriculum emphasizes building human capacity, cultivating team leadership, leveraging organizational behavior, and making effective financial decisions. Graduates emerge from the program equipped with strong strategic thinking, communication and leadership skills to advance their careers.
Richard learned about College of Saint Mary (CSM) through a social media ad after his wife asked him to look at something on Facebook. "I'm not a big Facebook person," he said. "Sometimes things happen by divine purpose, in my opinion."
The MSOL program intrigued him. As a patrol sergeant in Jacksonville, assigned to a training facility where he oversees training and compliance, Richard likes being a leader. "I want to learn," he said. "My agency doesn't teach leadership until you actually become a leader. Then, they will offer you some leadership courses."
CSM appealed to him on multiple levels. Although he is not Catholic, he is a spiritual person.
"I didn't look at it as a specific religion; I looked at it more so as an educational institution that has the same morals that I'm looking for," he said.
Richard pointed to CSM's mission, which incorporates inclusivity, and an article written by CSM President Dr. Maryanne Stevens, RSM, referencing the George Floyd incident as the validation he needed to enroll in the MSOL program.
"When I saw what was written by the president of the College of Saint Mary, I began to literally say that I think this may be the college that I really want to gain leadership components from," he said.
Once his classes began, Richard knew he had made the right decision. "I love (my cohort)," he said.
His classmates, who he refers to as his brothers and sisters, have encouraged him throughout the program.
"There was one time that I was thinking about quitting this program because it's very rigorous and challenging," Richard said. "To have a family and be a police officer and make time to do these things, I'm not going to lie, it's demanding.
"But the group that I am in, we are so much of a safety net for each other that we keep each other inspired and encouraged. We literally help each other," he added.
Richard is glad he's stuck with the program. He'll graduate in December. "I'm hoping to use this degree as a testimony to really show what is being done in my life through prayer, seeking God and being led through his direction," he said.
By: Leeanna Ellis