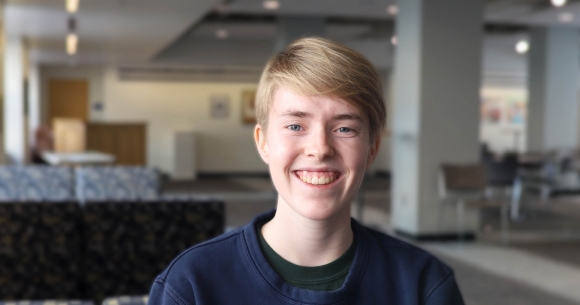 CSM Junior Gains On-The-Job Experience, Seeking Double Major
English and Legal Studies
Brooke Wigdahl entered College of Saint Mary as an English major. "I didn't have a real direction in what I wanted to do," the junior from Omaha said. "I just knew I loved English throughout high school."
After a semester, Brooke knew she wanted to do something in addition to the English degree. That's when she found CSM's Legal Studies program. She'd always been interested in law, but not necessarily being a lawyer. "Paralegal was that perfect mix," she said.
The double major found CSM thanks to Flames cross country and assistant track coach Derek Fey. Running in college wasn't necessarily a priority for Brooke. She was burned out after her four years of high school track. "It was not a make or break as to where I went," she said. "Coach Fey brought me to campus, and it reignited my love of running. The team atmosphere is wonderful."
Brooke focused on the 800-meter run and the steeplechase in her first two years. She's followed in her father's footsteps. Nate Wigdahl was a hurdler and distance runner for Dana College. "He was really excited," she said.
Balancing academics and athletics can be difficult, and Brooke said she worked to find that balance. "As a student-athlete, the student comes first, so if I have to leave practice early, so be it. Education is very important. That's what I'm here for," she said. "The first couple of weeks, it's just finding that rhythm, but once you find it, it's OK."
Coming from a larger high school like Omaha Marian, Brooke said she loves CSM's small campus. "I prefer smaller class sizes. You can get to know your professors, and your advisor is available. I just really loved the people I met here on campus. Everyone is awesome."
The smaller class sizes also afforded her opportunities she might not otherwise have gotten. During her sophomore year, Brooke worked as a legal assistant after one of her professors reached out. "It was amazing," she said. "I got a lot of experience, which I'm not sure I would have gotten at a larger university."
Following graduation in 2024, Brooke hopes to work as a legal assistant before becoming a paralegal. She plans to stay in the Omaha area.