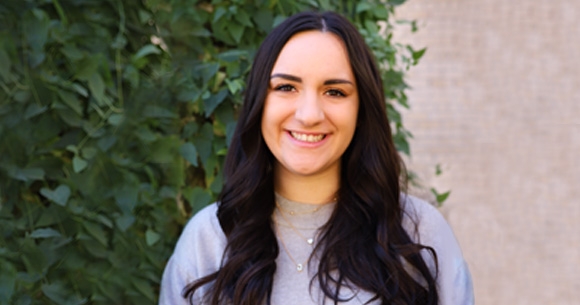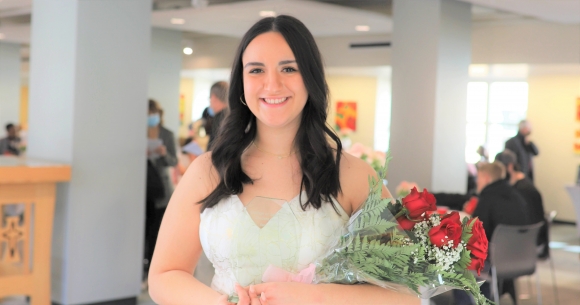 CSM Senior is Ready to Make a Difference in the Classroom
Gabby Linbrunner remembers being so nervous as she began middle school at the former Papillion Junior High. But Gabby, who is now a senior education major at College of Saint Mary (CSM), thrived in junior high thanks to her eighth grade U.S. history teacher, Kevin Wynn, who was just one of many individuals who inspired her desire to become an educator.
"I will strive every day to be a teacher like Mr. Wynn. An educator who is engaging and puts so much effort into his class," she said.
Gabby, who graduates from CSM in May, is an elementary and special education major. She'll also earn minors in psychology and music. She is currently student teaching at Black Elk Elementary School in Millard Public Schools.
Special education was significant to Gabby.
"I really like working with students who have special needs because you get to focus on their strengths, and you get to help them find new ones," she explained. "You get to integrate them into a school, and you get to help them thrive."
Gabby expects her psychology and music minors will assist her in her teaching role. "I added psychology because I think it's important to know developmentally where kids are," she said. "I really enjoyed my child psychology class which inspired me to go deeper into psychology to understand how students function as well as how the rest of the world functions."
While she tried to absorb all the knowledge about becoming an educator, Gabby also became heavily involved in activities on campus at CSM.
"After high school, I just felt like I was missing out on being involved," she stated. "I made a promise to myself to immerse myself in not just academics but also into clubs and organizations, to see what opportunities I could explore."
Gabby started with student leadership. "I got into Student Senate my freshman year, which is awesome because I was able to grow from there," she said.
She also took on leadership roles with the Campus Activities Board, Rainbow Alliance, Residence Hall Council and became an active member in Do Unto Others, SPARKS and Aspiring Educators. Gabby also joined choir and took piano lessons, "which I had never done before."
In February, Gabby was named the 2022 Heart of the Walking Woman, a long-standing tradition that recognizes students who exemplify character, service and leadership on campus. In 2021, Linbrunner received the third-year Heart of the Walking Woman in the Making.
"I have worked with Gabby within the Student Leadership Office, Residence Life and as a student leader in some capacity for her entire college journey. Her influence on the campus culture, student organizations, and Student Senate will be felt long after she graduates," said Kris Czerwiec, assistant dean of student life. "It is this strong legacy that students in the future will enjoy for years to come. I have enjoyed watching her grow and develop into a strong leader of tomorrow and look forward to seeing what she accomplishes in her time post-graduation."
While Gabby made an impact during her four years at CSM, she couldn't just name one person who made the most significant difference in her college career. "That just shows you how supportive the community is here," she said.
Gabby said her biggest takeaway from CSM is that "your voice can truly be heard."
"I never felt that I couldn't use my voice here, so I think that just being in such a supportive community surrounded by so many influential faculty and staff has just really pushed me to know that my voice can and will be heard," she said.
Following commencement, Gabby will teach in the same school district – Papillion La Vista Community Schools – from which she attended classes and graduated.
"It will be interesting to flip, to not be a student anymore, and be a teacher," Gabby said. "I want to create that community in my classroom that Mr. Wynn provided for me, and so that will be exciting to be in the role of community creator and educator."
By Leeanna Ellis