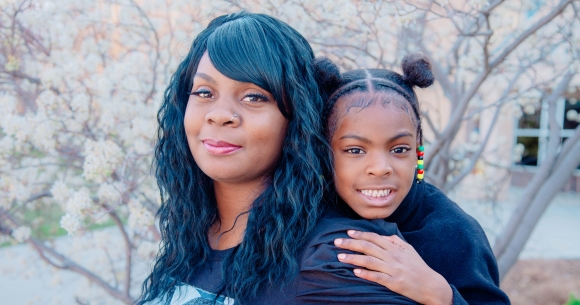 CSM's Mothers Living & Learning Program Gives Ni Watson Another Chance
Ni Watson wanted to go to college. But the New Jersey native had just given birth to her daughter, Autumn. How would she juggle a child and college classes?
Ni began searching online for schools that allowed single mothers and their children to live on campus. That's how she found College of Saint Mary (CSM). The university has offered single mothers on-campus housing since 2000. A $10 million dedicated residence building – Madonna Hall – was built for the Mothers Living & Learning (MLL) program in 2012.
"This is the school," Ni said. "I told my mom, 'God told me to come here. So, I'm going to go.'"
Making A Plan
Ni was a communications major at Stockton College in Galloway, N.J., when she lost her financial aid, forcing her to drop out. She joined the workforce, finding a job with Amazon. She had her own apartment. Then she had her daughter. Though she was stable, Ni began thinking about her future and what she would do in the long term.
"This is not going to be (it)," she said. "Situations happen, stuff happens, life happens." Ni knew that meant finishing a degree. A few years after she first inquired about CSM, Ni and Autumn arrived in Omaha. Ni is now a junior psychology major. She's also seeking a minor in business. "I wanted to go back to school," she said. "I wanted to do it somewhere where I could raise my child as well. To be stable and to come up with a plan."
Ni was open with her daughter about their move to CSM, though it wasn't easy at first. "We had a couple of bumps and challenges," Ni said. "At first, she was sad. But I've always been transparent with my daughter and told her we were coming here and tried to talk to her before we got here. When we got here, she was a little leery, but she loves it now."
Dr. Barbara Treadway, assistant dean of student support services who also oversees Single Parent Success, called Ni "unique" in her preparation for school. "She's very mature. I'm not saying that the other student parents aren't, but she came with a sense of wanting to self-improve and already had an idea of what she wanted those things to be," Dr. Treadway said. "A lot of times, I spend time with the student parents exploring what those things are, but she already had a sense."
Getting Involved
After getting settled on campus, Ni made an effort to get involved in on-campus activities. Currently, she is president of the Honorary African/African-American Leadership Organization and president of the Student Coalition at CSM. She has also been involved in Do Unto Others and Campus Ministry, part of her work study.
"I wanted to work there because it focused on making sure students, regardless of religion or non-religion, felt they had a place to go and talk," Ni said. "Campus Ministry also was involved with so many great things on campus that benefitted students like the mission trips and farmers market. It was the perfect opportunity to get to know the students and do a lot of volunteer work."
Larissa Buster, who oversees the MLL program as director of residence life, said Ni has flourished since arriving on campus. "That's been really cool to watch," Larissa said. "She certainly knew what she wanted to do. She came in, she wanted to make connections, she wanted to be involved. That's something that she's definitely continued to progress forward in and has really made a name for herself on campus." Students, staff and faculty agree, as Ni was named the third-year Heart of the Walking Woman in the Making in February 2022.
Finding Community at CSM
Ni found a community in the MLL program, and she's made many friends. "Those are some of my closest friends on campus," she said.
Her daughter, Autumn, now six, and the other children enjoy playing together, too. "We just open our doors, and they just run back and forth between the rooms," Ni said. "We go to the play area together. They have sleepovers."
Dr. Treadway said Ni, who she hopes to utilize as a peer mentor, is a role model for other student mothers. "I don't see those day-to-day interactions, but I can tell she's built a lot of friendships and assisted some of the new student mothers this year greatly," Dr. Treadway said. "They seem very grounded because of their interactions with her."
Buster agreed. "I love that she's really creating this space for other moms to feel like that they can get out there and that they're going to have the time to do the things and that they'll have the time to share their voice or get involved or whatever the case may be," she said.
For Ni, the MLL program has been paramount. A second chance. "It doesn't even have to be a second; it's probably the fourth or fifth. But it's another chance for me to sit down, think, plan," she said. "I love the fact that we have this program, and I try to tell as many people as I can about it. I feel like this is a good program; it's a phenomenal program. It might just be people not knowing or being scared, but it's a great opportunity. I'm glad that I could take the opportunity."