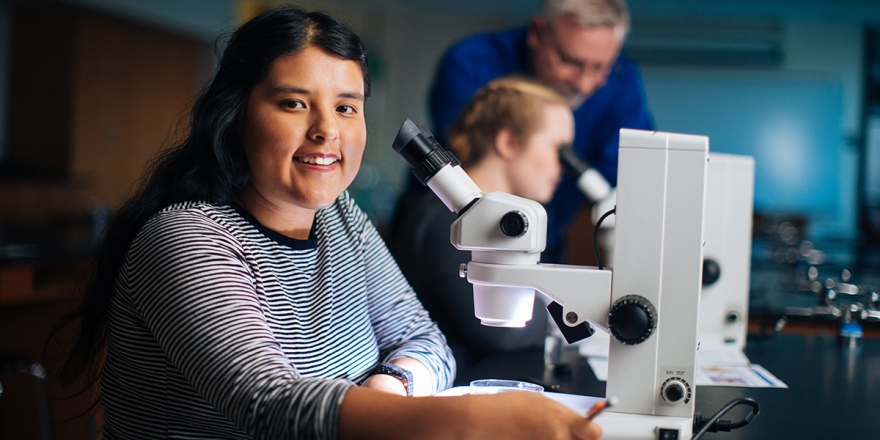 DACA student heads to prestigious doctoral program following May graduation
OMAHA, Neb. – For Montserrat Santos '21, there's been one particular thread weaving throughout her life: Science. However, as a Deferred Action for Childhood Arrivals (DACA) student, she wasn't left with many options to pursue her passion after high school. That is until she discovered College of Saint Mary (CSM) in Omaha.
After four years of study, Santos will walk across the stage this weekend with a Bachelor of Science degree in biology and the tools to succeed in her next step. That next step: a prestigious Ph.D. program at The University of California Merced.
Originally from Kansas City, Mo., Santos's interest in the sciences picked up steam in high school when she was introduced to research through an American Chemical Society program, Project SEED. The initiative enabled economically disadvantaged high school students to participate in a summer research program with real scientists as their mentors. 
Santos said this experience sparked her desire to explore biology and one day attend graduate school.
When looking at places to pursue her bachelor's degree, College of Saint Mary stood out to Santos because, as a DACA student, she knew she'd be cared for. The College is open about its support of DACA and DREAMERS and has even established the Misericordia Scholarship for undocumented students of diverse backgrounds who are not eligible for federal financial assistance.
"There is a strong amount of support for undocumented students here," says Santos. "I appreciate that CSM offers scholarships and provides Hispanic mentors who understand similar circumstances you go through in life."
Santos, a recipient of the Misericordia Scholarship, chose to study biology at CSM and started researching during her first year on campus through IDeA Networks of Biomedical Research Excellence (INBRE).
Through INBRE, Santos researched at the University of Nebraska Medical Center in a cancer research laboratory during summer 2018. The following summer and fall, she conducted parasitology research with Dr. Heather Stigge, an assistant professor of biology at CSM. Both of these experiences culminated in Santos presenting at the annual INBRE Scholar Conference in Nebraska City.
For Santos, this part of the research – the portion of discovery – is what intrigues her most about research.
"Being in the lab and actually doing the things yourself is exciting to me," she says. "Sometimes, you're the only person who is aware of the findings and new information, and to me, that's pretty cool."
It was her research opportunities at CSM that solidified Santos's choice to apply to graduate school and pursue a doctorate. The University of California Merced was her top choice, and this past January, she learned she was admitted to its quantitative and systems biology doctoral program.
As a first-generation college student, Santos didn't know how to approach the graduate school application process, so she credits faculty at the College of Saint Mary for guiding her to success.
"The faculty here, especially in the sciences, are very supportive," she says. "You ask for advice, and they provide it. I think that's key because as a first-generation college student trying to go to graduate school, there were many things I didn't know." 
When she begins her program this fall, Santos will work in a campus laboratory focused on structural, biochemical and functional studies of membrane transport proteins and determine what diseases could emerge if things went wrong in the process. 
"The knowledge I plan to gain through my doctoral studies is going to change my perspective in science, so that's what I'm looking forward to most," she says.
Santos's ultimate goal is to work in a research hospital like Mayo Clinic or St. Jude Children's Research Hospital, researching the field of pediatric cancers. She believes her time at the University of California Merced will help her home in on her expertise.
When she graduates with her bachelor's degree this upcoming weekend and turns the page to her next chapter of life, Santos reflects on being the first in her family to receive a college degree and pursue a doctorate.
"It's going to be amazing to be able to hold that degree in my hands. To acknowledge I graduated from college, and that I'm ready to take the next step on my journey."