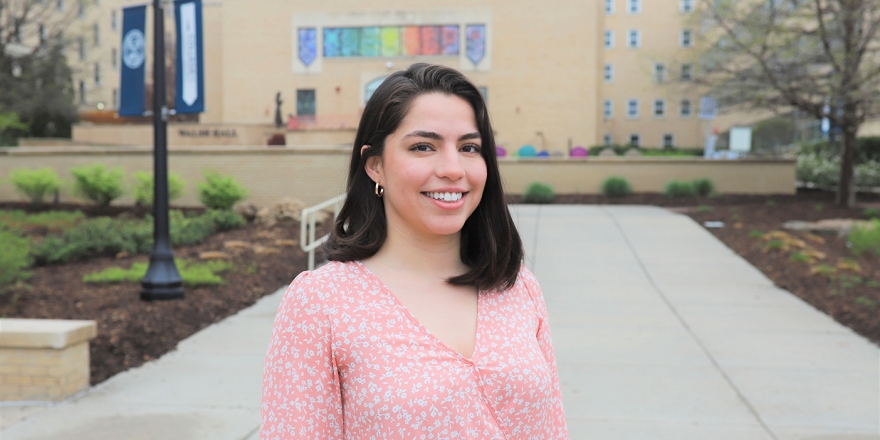 Undocumented student finds opportunities as she prepares for graduation from College of Saint Mary
Sophia Pico Del Villar was 17 years old when she arrived in Omaha on July 4, 2015 -- colorful fireworks exploding in the air as she looked out the plane's window.
The Mexico City native was on a trip to visit her aunt. During her visit, Sophia's aunt suggested rather than return to Mexico, she stay in the U.S. After some convincing, Sophia's mother agreed.
"(My aunt) basically told me I would have a lot of opportunities here rather than in Mexico," Sophia said.
Sophia, now 23, found those opportunities as she will earn her business degree from College of Saint Mary when she graduates at 10 a.m. May 15 in the Lied Fitness Center Fieldhouse.
 
Providing for herself and her siblings
Nearly a year after arriving in the U.S., Sophia graduated from Omaha Bryan High School. She was working full-time and attending community college.
That's when she became aware of the help and opportunities afforded to people born in the U.S. rather than those who are not U.S. citizens. Sophia also did not qualify for the Deferred Action for Childhood Arrivals program, or DACA, which protects children and young teens from being deported and permits them to work.
However, that didn't stop Sophia's determination. She also saw how beneficial it would be for her siblings, who are U.S. citizens, to take advantage of those resources and give them the opportunity that her aunt gave her.
In 2017, her brother moved to Omaha, and the siblings moved into their apartment. Sophia was now responsible for herself and her brother, who was still in high school.
"My mom would call us all the time from Mexico. I bet for my mom, it was a huge change just letting her two kids go," she said. "I knew I could do it, and I knew he could do it. If we focus on the right things, there were going to be very minimal bad things, and that's what we did. I focused on work, and I pushed him to focus on those things too."
In 2018, Sophia's sister joined her siblings in Omaha. Her sister will graduate from Omaha Bryan this month, while her brother is studying to be a pilot at the University of Nebraska Omaha.
 
CSM scholarship offers support, new chapter
As a transfer student, Sophia was awarded the Misericordia Scholarship at College of Saint Mary. The scholarship, funded by donors, is provided to undocumented students of diverse backgrounds who are not eligible for federal financial assistance. It covers tuition, room and board.
"It was really exciting. It was like a new chapter," Sophia said. "I was nervous but excited. Everything they provided me here, I've been so grateful for. I get to stay in the dorms and use the cafeteria. Experiences that I don't think I would have experienced anywhere else."
Sophia was amazed by the support she received from the CSM community. "I have not found this amount of support and this amount of help ever since I came to the United States," she said. "The people here, you can tell that they really want to help, and they try to help as much as they can."
Katty Petak, senior director of alumnae relations, served as Sophia's mentor. "I told her she came here already with everything you had," Katty said. "All we needed was to provide a place where you felt safe to be yourself and to do the things you wanted to do."
Influenced by her mother, a single parent who developed business skills to provide for her family, and the women in her life, Sophia chose to seek a degree in business.
"I really didn't know what my interest was, especially right out of high school. It's hard to know what you like," she said. "But my mom had a couple of businesses in Mexico, and I saw how she would operate. My aunt works at a bank. I just saw my family members. My grandma was also really into business. Growing up, I saw a lot of women in that field, and that's kind of what I wanted to do as well. Follow their steps."
Sophia said she was grateful for her teachers and what she has learned. "The classes here are just things that I never would have thought I'd learn anywhere else," she said. "One of my favorite classes has been business ethics. That really just made me think outside of the box completely on different topics I would have never thought about before."
 
Investing in her future
While working full-time and attending college, Sophia saved as much money as she could. But she didn't know what to do with it.
"I was telling my mom I don't know what to invest in," she said. "I want my money to work for me. I want to double my money with what I had."
Sophia decided to purchase a house and see what she could do with it.
"I found a really old, old house very cheap. It was like an abandoned house," she said. "I really did not know anything about houses at the moment. Now that I look at it, I wonder how did I do that. It didn't have water; it didn't have electricity."
But Sophia had a vision. So, she bought the house. It was in rough shape, but Sophia cleaned it up with help from her siblings.
"It took quite a few weeks and a lot of dumpsters and just a lot of hours of work," she said. "That's the only thing I did. I did have people come and estimate how much it would cost, but it was way outside my budget. I'm just going to clean it out and sell it as it is."
The risk paid off as she sold the house, almost double what she bought it. Sophia has since purchased a second house, with plans of fixing it up.
Sophia plans to continue to increase her real estate portfolio. The investments have also led her to a potential career. "I would love to keep on studying to get my real estate license," she said.
She also wants to help members of the Hispanic community learn how to purchase their own homes. "There's not someone who can guide them through the steps of how to purchase a home or how to apply for credit," she said. "Everyone is always asking me how I did it, how did you buy the house. I tell them it's really easy; just take the first steps and do it. There are a lot of people that need to be guided. And maybe they don't know. Maybe they don't have enough information because of the language barrier. I would love to help minorities."
Sophia is excited about what the future holds, but she remains humble about what she's achieved so far.
"For me, since I've lived this life, for me, it's not 'Oh my god, all these things I've achieved,'" she said. "I still think I have so many more things to achieve. At the same time, it's good, but I'm nowhere near where I want to be. This is just beginning."