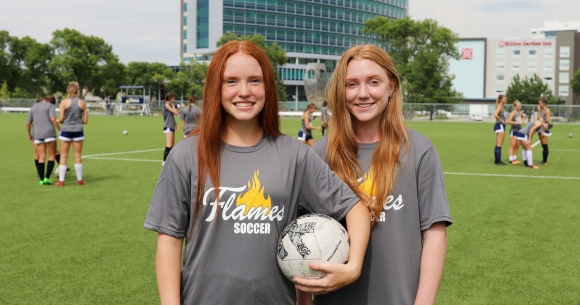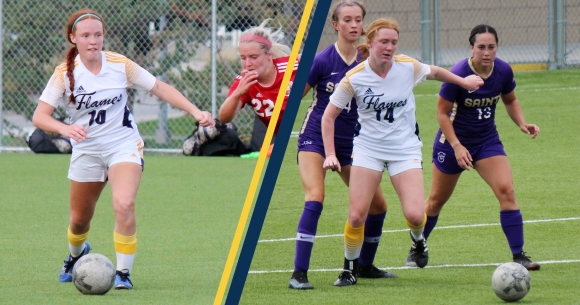 Sisters Enjoy New Role as Teammates at CSM
Kinesiology and Exercise Science, Business
Sisters Abbie and Kylie Anderson have played soccer since they were 3 years old, but never on the same team. That is until Abbie followed her older sister to College of Saint Mary after graduating high school. Both are members of the Flames soccer team.
"My dad really wanted us to play on the same team, and I thought it would be a lot of fun if we did," said Abbie, sophomore kinesiology and exercise science major. "We work well together because we've been training together for a while."
CSM Coach Jordan Irsik said the team was excited to see the sisters together. "They are very different players who had never played together, and as someone who gets to watch them every day, it's been really fun to watch them grow to be a dynamic duo," Irsik said. "You see a lot of stat lines that say 'Anderson assists to Anderson goal.'"
Prior to competing at CSM, Kylie played for Marian High School in Omaha, while Abbie played for Sporting Omaha FC in the developmental academy program, as Fort Calhoun High School does not have soccer.
Despite not playing on the same team, the sisters remained competitive with each other. "She was a lot more competitive than me," Kylie said of her younger sister.
Their dad would often fuel the competition between the two of them. "As kids, our dad would always offer us $5 or ice cream if we scored a goal, and that kind of drove our competitiveness," Abbie said.
Following her high school graduation, Kylie chose to attend CSM, where she is seeking a business major, as it was close to home. She also appreciated the attention Irsik gives the team. "Jordan is just very personable and made sure to get to know us as people," said Kylie, a forward for the Flames.
Irsik said she thinks highly of the sisters, whom she noted are essential to the team's success. "One of the most fun things about them is how fiercely they fight for each other," said Irsik, who coached Abbie as a youth. "You will always see Abbie looking out for her sister, and Kylie has the attitude of 'No one can pick on Abbie but me.'"
Since becoming teammates, the sisters found they work well together off the ball – something they hope to expand and learn to do with the rest of the team. "I always know where Kylie wants the ball, and she always wants it at her feet," said Abbie, a midfielder. "She doesn't want a through ball or anything like that. She knows to lay it back because I'm making a run. It works well. We know where we're going to be before we get there."
By Leeanna Ellis