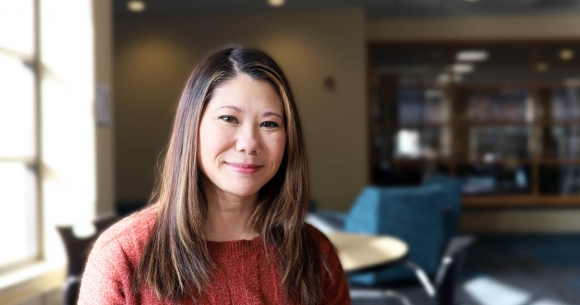 Part-Time Student Finds Support to Finish Degree
Life happens. But that hasn't stopped Arlene Orr from working to earn her degree in legal studies from College of Saint Mary. The part-time student, who is also minoring in business, is scheduled to graduate in December.
Arlene, 40, began taking classes at CSM in 2009. She and her husband were operating their own barbershop at the time. "My friend convinced me to come here," she said. "I liked the legal studies program."
By 2012, Arlene began to cut back on classes and eventually stopped to be more attentive to her stepdaughter. She also joined the workforce. She's now a data management specialist. Still, the idea of leaving her degree unfinished didn't sit well with Arlene. "Why pay on loans and have nothing to show for it?" she said.
Arlene returned to campus in 2020. "I wish I had come back sooner because, as I told my stepdaughter, it gets touch as you get older and work full-time," she explained. "You can't always take a full class load when you want to."
Balancing life, a full-time job and college classes can take time and effort. In 2021, Arlene's father passed away, which led her to take a leave of absence in the fall semester. "It's tough some days," she said. "Some weeks, I'm good at it. Some stuff comes up, and I might have to turn something in a little late. I always make sure I do my work."
Arlene said her professors have been helpful through those difficult times. "They've understood that family is important, and they help me in any way they can. They support me. I try to stay in constant communication with them."
With graduation in sight, Arlene has begun to focus on what the degree will mean as she moves forward. "When I started, I wanted to do legal work. It does fascinate me," she said. "But on the business side of things with my job, as it keeps elevating and growing within my positions, I like business, too. If there were a way I could wrap it all into one, that would be great."