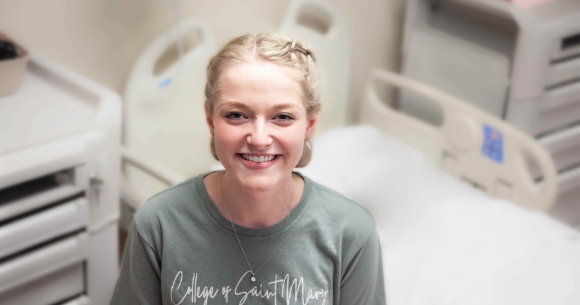 CSM Senior Inspired to Become a Nurse by Those Who Cared for Her Father
Chyna Delker was sitting with her father during his Stage 4 esophageal cancer treatment when he fell asleep. While he slept, the then-high school senior visited with another patient who was sitting alone.
"We had a beautiful conversation," Chyna said. "It was fun. We laughed a lot."
As Chyna returned to her father, a nurse pulled her aside. "I have not seen that woman smile or laugh, and she's been coming here for over a year," the nurse told her. "I think you have a gift, and I think you need to go into nursing."
Chyna had yet to decide on a career path. "Right then and there, that's when I knew I needed to pursue this journey," said Chyna, now a senior nursing major at College of Saint Mary.
"From that point forward, that nurse might not remember saying those words to me, but that has gotten me through every difficult exam, every hard simulation day," she added. "I think it was a blessing. I got to have a relationship with my dad, and I got my life's calling all because of that moment."
 
Building a Relationship
Chyna didn't have the greatest relationship with her father, Bruce Corbitt, who lived in Texas. He had lived a different life, one she said she didn't want to lead. "It wasn't always positive things going on in his life," she said. "He was a singer in a heavy metal band, and that life can be hard."
But a phone call when she was a junior in high school changed everything. Her father had been diagnosed with cancer. He was given less than a year to live.
"I knew at that moment that I didn't want to have any regrets," she said. "I really wanted to pursue a relationship with him. I started calling him; I started talking to him. We grew quite close, but he was really sick."
Chyna was there as her father endured surgery after surgery. She helped her father pursue clinical trials when the surgeries didn't work. They both were accepted into a trial that focused on antibodies. "They were looking for a particular antibody in my blood," Chyna said. "We were blessed to have that opportunity and further research because it was so early in those trials."
When he could, Chyna's father would accompany her to her appointments. But his cancer was progressing. It was month 16. He had lived four months past the doctor's prediction. Chyna believed the trial helped her father fight for the last month of his life.
But three weeks after her last appointment, her father passed away. "I know that because I had gone down there, spent so much time with him and stepped into that caretaker role, he felt proud to be my father, and I got to learn a lot more about his life than I had ever known," Chyna said.
 
Finding a Home at CSM
When Chyna began looking at potential colleges to start her journey of becoming a nurse, her mother suggested College of Saint Mary. She had attended a conference on campus and noted how positive everyone was about education.
"When I had toured other colleges, I always felt it was 'What I could bring them.' When I came here, it was 'What we can do for you to help you grow into the person you were meant to be,'" Chyna said. "That was felt when I walked through these halls, talked to the nursing faculty, and even when I talked to other students in general. They seemed happy and excited to be learning."
Chyna didn't need to tour any other schools. She found her home at CSM.
Not long after, CSM's cross-country coach, Derek Fey, reached out to her. Chyna hadn't considered sports in college. "I ran cross country and track in high school. I thought I was done. It's too hard; I could never be a college athlete."
The coach traveled to Hastings to visit with her and discuss joining the Flames. But Chyna was worried she wouldn't be fast enough or have enough time to be a part of the team. "He eased all those scared thoughts, and it was positive," she said. "He talked about how he was looking for people to be positive on the team to have that great team dynamic. It wasn't about who was the fastest. It was about creating a family in a college sport."
Later that day, Coach Fey offered Chyna a scholarship. "That made it more achievable for me to come here," she said.
Being a part of the Flames' cross-country and track teams have been fun and memorable for Chyna. "Some of my favorite college memories are with my team. They're great, they're wonderful."
In the classroom, Chyna has appreciated the kindness and openness of her professors, who emphasize building a relationship with their students.
"I was always told when I got into a nursing school that they want to weed you out or push you to fail because they want the smartest people," she said. "That's not true. They want the people who want to be here."
If she's struggled, Chyna never let herself get discouraged, and neither would her professors. Instead, they've helped her study or find different ways to think about things. "In all my classes, I've learned a different life lesson because of mistakes or failures they always tried to put a positive spin on," she said. "I just learned to be a better person through working with them, and I feel like I'm coming into my own through those lessons.
 
'I Will Always be Proud of Her'
Chyna's father had dropped out of high school as a freshman. He was amazed by her desire to continue her education. Before he passed away, she told him she planned to be a nurse. "One of the last things he did before he passed was make videos to express how much he loved me, appreciated me, and would always be proud of me," Chyna said.
"I have no trouble expressing my love and gratitude for my daughter's will to learn and her strength," Bruce Corbitt said. "This will get her through the most difficult times, and I will always be proud of her."