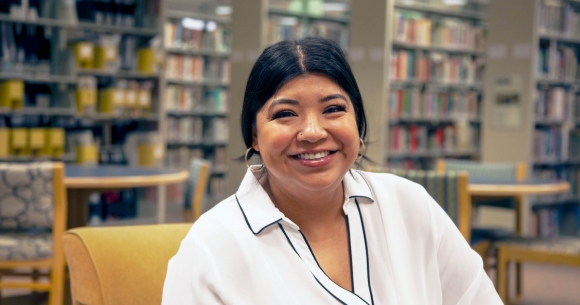 Nontraditional Student Finds a Place for Herself at CSM
Cynthia Meyer was taking classes part-time at a local community college when she realized she needed more if she was going to finish a degree. So, she transferred to College of Saint Mary. "I felt like CSM would be the best way for me to reach my goal of graduating and getting a bachelor's degree," she said.
CSM was the right environment for Cynthia as someone with other responsibilities besides being a student. Cynthia, 35, is married and a mother of two daughters – 8-year-old Ellie and 6-year-old Rubi. Her daughters have been able to see what higher education could be like for them.
"For me, that's a big deal because I didn't see that growing up. I'm the first of my family here in the U.S. to go to college," she said. "I think it's cool for them to experience a little taste of what the future might be like if they choose to go to school."
Before attending CSM, the Omaha resident had worked providing home visits for parenting and child development. That's why she chose to major in humanities, which seemed to be the right fit. "I love people. People give me energy," she said. "I know I want to do a job related to people, helping and empowering people. I felt that was going to give me the background that I needed to connect with people."
As a nontraditional student, Cynthia, who will graduate in May, said she feels like she has gained a different collegiate experience than she would have if she had attended right after graduating high school. "I feel like I bring a different perspective when we have lectures. It's also nice to hear someone's viewpoint who is 10 years younger than me."
Cynthia said she wants women to realize there is a place for them in higher education and that there is more than one route to complete their degree. "You can go back."
"There's a place for everybody here at CSM. It doesn't matter how old you are or what walk of life you come from. You'll feel comfortable in this environment, and everybody is willing to help you," she said. "Everybody truly wants to see you succeed here."