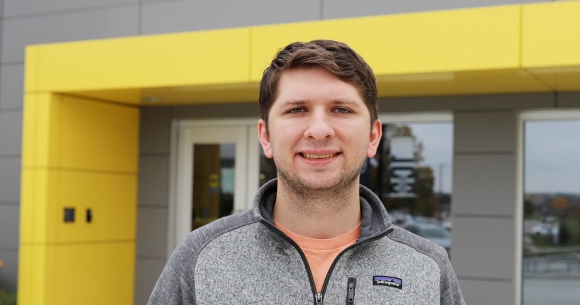 Graduate Student Earns Valuable Research Experience in CSM's Kinesiology Program
Master of Science in Kinesiology & Exercise Science
When Ethan Goetzinger sought a graduate program to advance his education, he had to look no further than his sister, Allison, for inspiration.
Allison, a 2022 College of Saint Mary graduate, suggested he meet with Andrew Shim, EdD, director of CSM's Kinesiology & Exercise Science program. She had earned her bachelor's degree in kinesiology but knew there was also a master's program.
"Allison introduced me to Dr. Shim. He told me about the kinesiology program," Ethan said. "The more he told me about the program, the more interested I became."
CSM's Master of Science in Kinesiology and Exercise Science offers two types of concentrations – research-based thesis and graduate-level internship. The coursework emphasizes practical application to human movement and developing skills to apply to future career opportunities, and the curriculum helps students develop the skills needed to understand and interpret data involved in exercise science research.
The research element of the program was something Ethan, who graduated with a degree in education science with a focus on speech and language pathology from the University of Nebraska Omaha, could see himself doing.
"Dr. Shim explained to me how I can use kinesiology and my experience in speech and language pathology to do my own research," the Omaha native said.
As part of his research methods class, Ethan is developing an institutional review board proposal using those two elements and music therapy to help older adults with balance problems.
"What else can I do by combining speech and language pathology, audiology, and other aspects of hearing science with kinesiology? I'm learning how to combine them to help people in the future," he said.
Ethan has developed a good working relationship with Shim. "He pushes me forward to try new things. He gives me a lot of opportunities to find myself and explore things that I couldn't possibly do before," Ethan said.
For example, Ethan is participating in a practicum session with a patient. "I never got that opportunity during my undergraduate studies," he said, adding that CSM has given him a more personal experience.
He's also gained hands-on experience in CSM's multi-million-dollar, state-of-the-art human performance lab.
Once he obtains his master's degree, Ethan said his goal is to do research and design research studies to help people, possibly in a hospital setting. "Explore opportunities that haven't been looked at before or maybe need a second glance and help people improve their lives," he said.