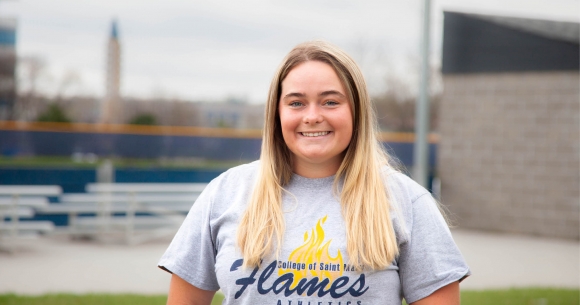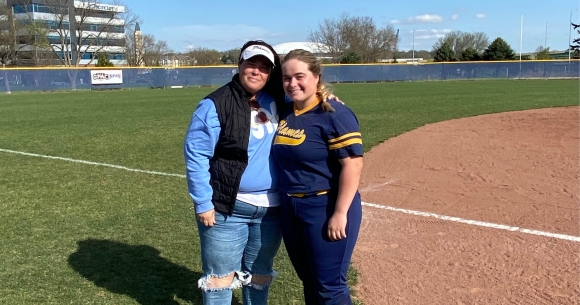 CSM Junior Follows in Mom's Cleats on Softball Field
At every home softball game, Morgan Ethen's biggest fan – her mom -- can be found in the stands. And Amy (Peterson) Ethen knows a thing or two about Flames athletics. Morgan is a second-generation Flames softball player. Her mom, Amy, played for four years, graduating in 1993. "She really enjoys watching us," Morgan said. "When she talks about when she used to play, they had a very close-knit team… lifelong friends. She sees it with me and my friends and how close we are and the bonds we've created."
The Elkhorn South graduate chose College of Saint Mary for a chance to play at the next level and to earn her nursing degree. Morgan always had a strong interest in nursing and felt like CSM was a great university to make that dream a reality. Growing up, she heard her mom talk about the college and all her fun memories playing softball. "I came here, and I fell in love with the small, intimate culture of the campus," Morgan said.
Her mom wanted Morgan to make her own choice on which college to attend, but Morgan could tell she was really, really excited once she made the final decision to attend CSM.   
Playing college softball while balancing her studies was an adjustment for Morgan. At first, she was nervous about it but shared that Coach Carolyn Bray and the upperclassmen were very welcoming. Morgan shared, "I think that's part of College of Saint Mary's culture – very willing to help, and that made the adjustment much easier."
The junior outfielder enjoys contributing to a team. Her teammates push each other to succeed and root for each other. That's what she loves about the game.
In addition to making plays on the diamond, Morgan is working hard in the classroom to earn her Bachelor of Science in Nursing degree. At 16, she earned her CNA certificate and began working at a nursing home in Valley. "I saw the nurses there and the compassion they have, and it just really drove me to the profession," she explained. "I tend to be the person who likes to give more than they take. That drew me to nursing, just caring for people and giving them your all."
Morgan currently works in the emergency room at CHI Health Lakeside Hospital and hopes to someday work in a pediatric ER following graduation in 2023.
Choosing CSM was the right decision for her, for both athletics and her education. Morgan has formed many great relationships with her instructors, and she can tell they really care about her and her classmates. These relationships have pushed Morgan to succeed in her academic journey.