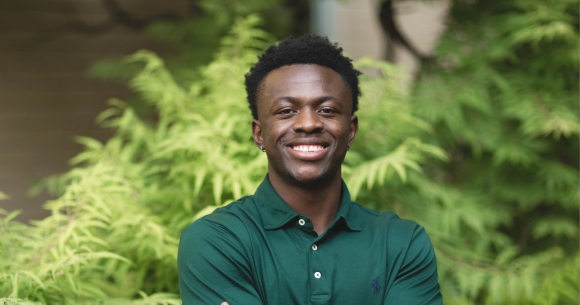 CSM 'felt like home' for OTD student
Occupational Therapy Doctorate
As an undergraduate, Precious Awopetu was pursuing a degree in nursing when he met a friend who was studying to become an occupational therapist.
"I was intrigued," he said. "I did my research about occupational therapy. It looked like something I would like for a career. It looked very rewarding."
After job shadowing a few occupational therapists over a summer, Precious changed his career path and earned a degree in exercise science in 2019. He began applying to OT schools in the spring of 2021. While searching the Occupational Therapist Centralized Application Service (OTCAS), Precious found the College of Saint Mary Occupational Therapy Doctorate. He was hesitant to apply after learning it was an all-women's college, so he emailed the coordinator. (CSM graduate programs are open to all.)
"Not only did she answer my questions, but she also went a step further and scheduled a Zoom call with me that same day, which was very meaningful to me," he said. "At the time, I was applying to all these different schools. Sometimes I would ask questions, and either they wouldn't get back to me, or it would take weeks or months to respond to me."
After applying, Precious took a tour of the campus. "It felt like home," he said. "It felt like somewhere I could be."
He also received an interview. "Unlike other schools I interviewed with, this interview was much different because it felt like a conversation. They really seemed like they wanted to get to know me. That was very meaningful and genuine to me."
Once on campus, Precious appreciated his professors' effort to make him and his classmates feel like peers. "They have this open-door policy that you can drop in anytime to talk to them. They genuinely care about us. They want to see us succeed."
In February, Precious started his fieldwork at a skilled nursing facility in Omaha.
"I'm looking forward to getting hands-on experience. We get to be an OT, just supervised," he said. "Just getting that day-to-day experience, talking to patients, evaluating them, and coming up with different interventions. Looking at the different issues they might be having and coming up with solutions."
Precious will graduate in May 2024. Following graduation, he would like to work with adults in geriatrics. "I am passionate about working in an inpatient rehab or a skilled nursing facility. Those are two places I could see myself in," he said. "I'm looking forward to seeing these individuals' growth and change after they leave."