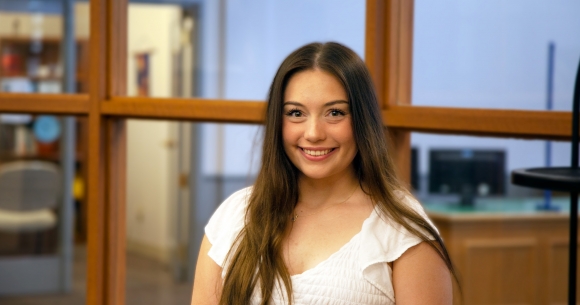 CSM Junior Wants to Become a Doctor and Empower Women
Savannah Armendariz wants to go to medical school. "I really enjoy learning," she said. "I just wanted to take my knowledge and really put it to good use."
The College of Saint Mary junior and human biology major hopes to be an obstetrician/gynecologist. She has a love for babies, but she has another reason for wanting to become an OBGYN. "I just like the idea of helping women," Savannah said. "I know in the past a lot of people felt uncomfortable going and taking care of themselves, and I want to try and change that. I want to make women feel more empowered to take care of themselves. Even if they can be a little awkward, it's super important. More emphasis should be put on taking care of yourself."
To prepare herself for a career in medicine, Savannah has participated in a few job shadows. She's also an INBRE Scholar. Established in 2001, the INBRE Scholars Program was created to expose students to professional biomedical research and build a statewide biomedical research infrastructure between undergraduate and graduate institutions. Students enter the program after completing their sophomore year of college upon the recommendation of their college professors. It is a two-year comprehensive training program designed to prepare the students for graduate school.
Savannah follows a University of Nebraska Medical Center instructor researching pancreatic cancer. "I get to do small side projects that help in his research…It gives me a baseline experience."
Savannah, a 2020 Blair High School graduate, credits CSM staff and faculty for providing the environment she needed to succeed. "I like being surrounded by people who push you to do your best. I feel like the staff and faculty here know you're capable of doing big things, and they really want you to be successful," she explained. "If you put yourself out there, they will help you as much as you can. That's what I found super helpful here. It feels like a community more than other universities."
One of the reasons Savannah chose CSM was for the atmosphere. "I had never considered going to an all-women's college, but when I came here, I felt like it was homier. I liked the idea of a smaller college because I get to know more people personally than at a bigger university. Everyone I met here was super friendly, so I think that influenced my decision."
When she first arrived on campus, Savannah participated in the CSM Advantage, a week-long event for students to dive into college life and get equipped on how to be a successful student. "I did a lot of activities that got me involved in all these different organizations on campus. I met a lot of different people. That first week was really welcoming and getting to know everyone and know who I could come to for help. I really liked that because I met many of the friends I still have through that program."
Savannah is a member of Latinas Empowering Others (LEO) and serves as the secretary for the Animal, Plants and Nature Club. Following graduation, Savannah hopes to attend medical school at UNMC or Creighton University.