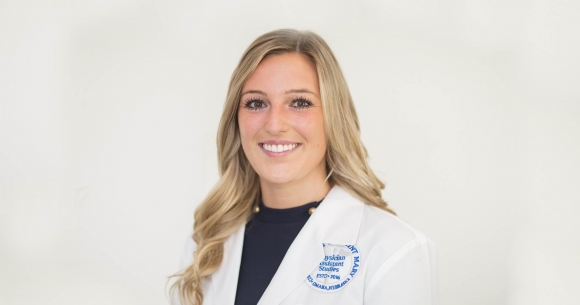 CSM PA Student Eager to Continue to Learn Through Clinical Rotations
Master of Science in Physician Assistant Studies
After graduating from the University of Nebraska-Lincoln, Taylor Sweigart knew she wanted to stay in Nebraska for graduate school. She applied to all the colleges offering physician assistant studies. "I was very excited to get into College of Saint Mary's PA program and begin the next step to becoming a PA."
CSM's Master of Science in Physician Assistant Studies program provides the didactic scientific foundation and essential experiences in clinical practice, research and professional services to prepare students for this role.
Taylor knew from a young age that she wanted to work in the medical field, but she was initially uncertain if she wanted to attend medical school or PA school. "I ultimately decided that being a PA allowed me more time to interact and build relationships with patients while also providing me the flexibility to change specialties throughout my career," she said.
Coming from a larger university, Taylor said there was some adjustment when she first stepped foot on CSM's small campus in fall 2021. However, she quickly found the positives and benefits of a small campus. "I feel like I have more access to faculty members and support at CSM because it is a smaller university," she said. "All the faculty members are always available for personal and academic support. They truly want you to succeed here and do what they can to help make that happen."
Taylor is now working on completing her 12 clinical rotations. CSM offers various medical environments to develop skills as a PA. "It is amazing how much you learn during your didactic year, only to enter clinicals and realize you have only scratched the surface," Taylor said. "There is immense medical knowledge and expertise, which is both exciting and overwhelming as a clinical student."
Taylor has yet to gravitate toward a particular area of medicine. However, she is receptive to any. "I have enjoyed every rotation so far and have kept an open mind as to which specialty will work best for me in the long run," she said.
Following graduation later this year, Taylor would like to take a month off before beginning her career. "PA school is rigorous, and I think it is important to take some personal time to relax and reset before I start my next step," she said. "If all goes well, I hope to have a PA job after graduation to start making an impact in patients' lives."
By: Leeanna Ellis