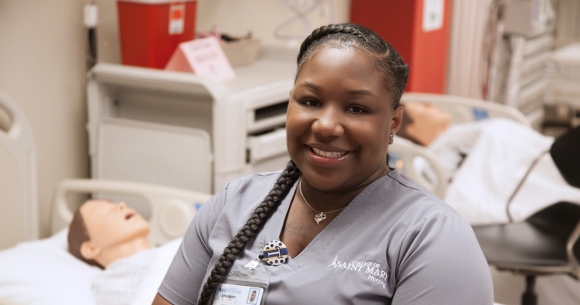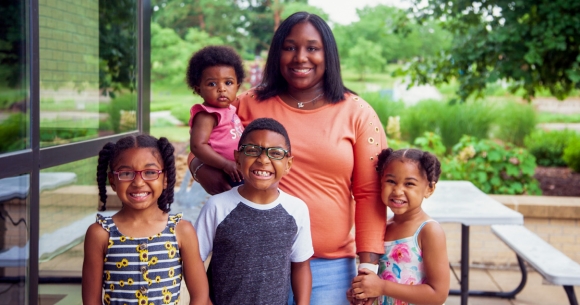 Mother of 4 Finds Support to Earn Nursing Degree at CSM
Practical Nursing Certificate
Tiara Brown, 32, was considering going back to school to earn a nursing degree when she drove past the College of Saint Mary campus. "I just loved the atmosphere and the buildings," she said. "I came in and did a tour and I fell in love from the moment I entered the doors."
The mother of three was pregnant with her fourth child when she enrolled in the Practical Nursing Certificate program at CSM. The one-year program allows graduates to become a Licensed Practical Nurse while meeting the requirements to progress into the Bachelor of Science in Nursing program.
Tiara had attended another college while pregnant with her third child, but she found the program wasn't flexible enough for moms and moms to be, which resulted in her dropping out.
"When I came here, I found that there was a lot more support for moms, which helped me a great deal," Tiara said.
That support was especially needed last year as Tiara had complications following her daughter's birth in September. Tiara had planned to miss four to six weeks of classes. But she had to leave the program after she became eclamptic and was re-hospitalized.
"It was a struggle. I didn't want to give up on my dream, but I knew that I had to take care of my health first and the needs of my children before continuing to go to school," she said. "It was a tough decision."
With children Khylan, 7, Kylah, 5, Kynlee, 4, and Kyndall, 9 months, at home with her husband, Taylor, Tiara returned to the classroom this past May. Attending college and completing her coursework while trying to care for four children can be difficult. "It's one of the more stressful things I've had to do in my life, but I see it as something I have to do for them," Tiara said. "I feel like with every trial and tribulation you have to get over those obstacles to get there in life."
But one thing Tiara won't have to worry about is the financial aspect. This spring, she was one of 25 recipients of the new Josie Harper Nursing Scholarship, which was established to help financially disadvantaged students, including those who are first-generation, single parents, ethnic minorities and/or Pell-eligible, who desire a nursing career. The scholarship provides a debt-free pathway.
"The scholarship gives me the opportunity to pursue not only my practical nursing certificate but also my bachelor's degree in nursing as well," Tiara said. "It's like a dream come true. I can now focus solely on my schooling and master my goals."
Tiara is grateful for all the support she has received at CSM. She'll graduate with her PNC in May 2023.
"My professors and all the other resources here at CSM are my biggest advocates because they truly want to see me succeed and will do anything to help me along the way," Tiara said. "I am so happy I chose CSM to obtain my nursing degree because they don't just treat me like a student, they treat me like family."