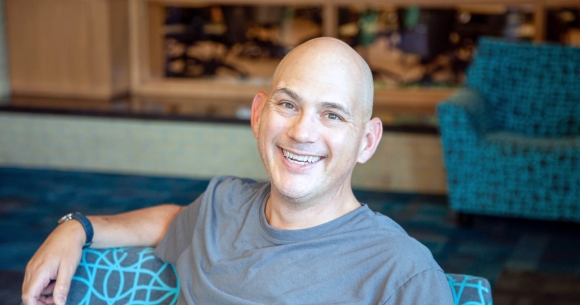 CSM MAT Student Pivoted from Restaurants to Education
Masters of Arts in Teaching
Timothy Siragusa had worked his entire career in the restaurant industry until the coronavirus pandemic in March 2020 forced him to look in another direction.
He began working as a paraprofessional at St. Thomas More Catholic School. In his first year at the school, a teaching position came open. "This was an unusual circumstance. I had no certifications when they hired me," he said. "I told them, 'I'm going to get my teaching certification, and I'm going to teach fifth grade for you."
Timothy's neighbor and coworker, who serves as a mentor and advisor to him, suggested he explore College of Saint Mary's Master of Arts in Teaching (MAT) program, which is designed for students who already hold a bachelor's degree in a field other than education.
"This is my pivot," said Timothy, who earned a degree in English from Creighton University in 1990.
At 56, Timothy recognizes he's unique. Most his age are contemplating retirement, not a career change.  "I'm a man, I'm over 50, I teach full time, and I'm in grad school," he said.
Though Timothy will not graduate until May 2023, he is already in the classroom. He is taking classes each Saturday at CSM, while teaching fifth-grade students during the week. "Every Saturday, I get the tools that I use in the classroom on the next Monday," he said.
Timothy is grateful for his professors, all of whom have classroom experience at the elementary level.
"My teachers are people who are actually in a classroom wiping noses, putting Band-Aids on elbows and herding 7-year-olds around the building," he said. "You can tell that immediately. You can tell the people who are actually in the field. That's one of the reasons I'm so content here."