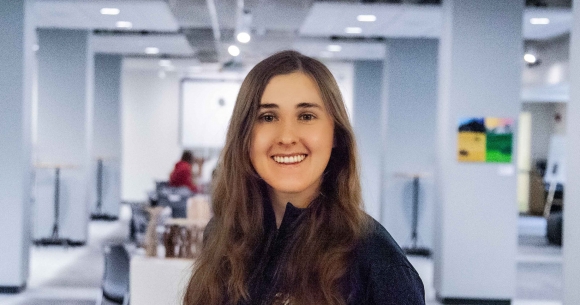 Junior Hones Art, Teaching Skills at CSM
Though most of her family had studied science, Tori Suto wanted to learn something different. "I had a very close relationship with my high school art teacher, and she inspired me to go into art," Tori said.
When choosing where to go to college, Tori did follow in her family's footsteps. Both her mother and her sister attended all-women's colleges. That's why she chose College of Saint Mary, which focuses on providing access to education for women in an environment that calls forth potential and fosters leadership. The junior art and education major has high aspirations to someday serve as an associate professor at a college.
In the meantime, she has been honing her craft at CSM. Tori said she is proficient at drawing, so she's been producing paintings for the past two years. Most recently, she discovered the combination of watercolors and acrylic paint, where she will paint with watercolors before painting over it with acrylics. "I excelled a level in craftsmanship by combining my two favorite mediums in a very skillful way that I hadn't before," she said. "It just developed naturally."
Tori has learned what kind of teacher or professor she wants to be through her education classes. She's glad she has two majors. "It gives me a few options when I leave here. Do I want to get a master's in education, or do I want to get a master's in art education? I'm leaning toward art education now," Tori explained.
In addition to art and education classes, Tori is also a member of the Flames golf team. She was a three-sport athlete in high school, so it was natural for her to continue in college. "I'm very thankful for having a golf team, a bunch of girls, to introduce me not only to each other but also their friends, their family members," she said. "That's been such a blessing."
The close CSM community has also been beneficial to the Joseph, Ore., resident who graduated with a class of 16 from Joseph Charter School. Tori, who serves as a tour guide for enrollment (CSM Ambassador), often shares that with prospective students looking for small class sizes. "It's a great college experience when you're around people, and you see the same faces every day," she said.
After graduation, Tori hopes to teach in the Omaha Public Schools district before pursuing her master's degree.
By Leeanna Ellis