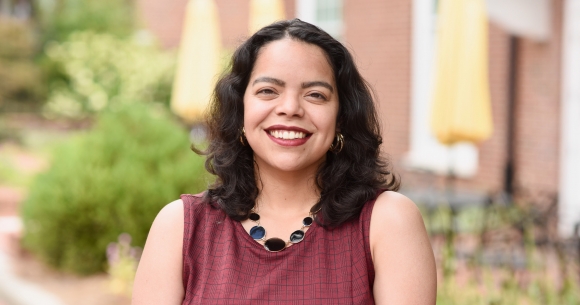 Doctor of Education program will allow Victoria Burgos to take career to next level
When Victoria Burgos was looking for a Doctor of Education program, there were a few things she knew she needed. A program that was 100% online would allow her to balance school with her job as director of orientation and student activities and acting dean of students at Salem College.
College of Saint Mary had that. But there was one thing that clinched the decision for Burgos: CSM is an all-women's college for undergraduate degrees. Victoria is an alumna of Salem College, which is also an all-women's institution. CSM's graduate programs are open to all, however.
"Being an alumna of a women-serving institution, I really have a love for these kinds of places and know how important they can be," she said. "That's definitely one of the reasons I was sold on College of Saint Mary."
Victoria, a first-generation college graduate and first-generation American, was ready to take her education to the next level when she made the decision to get her doctorate. Initially, she was accepted into the 2018 cohort, but deferred after her father passed away. "It was really important for him to see me continue my education," she said. Her parents moved to the U.S. from Nicaragua in the early 1980s.
In 2019, Victoria began classes and found support from her professors and classmates. She formed a tight-knit group she could rely on and a program that followed the collaboration over competition mindset. "I think that's been good," she said.
Victoria defended her dissertation in July. It focused on student affairs positions and the chances of being overworked and underpaid when their bosses learn they love their job. She admitted it was "a bit autobiographical" based on previous jobs she's had.
"It was the middle of COVID. Everyone was really burned out. I think institutions across the country asked people to do more because everyone's enrollment was struggling," she said. "That's kind of what I found in my interviews."
Victoria plans to walk in the December graduation at CSM. She was recently promoted to dean of students for Salem College. But she knows none of that would have been possible without the Doctor of Education program at CSM. "I can't imagine how I would have done this otherwise because it is a very flexible program," she said. "It's definitely a degree program that's built for people who have too much going on in their lives to pause everything and go to school."
By: Leeanna Ellis