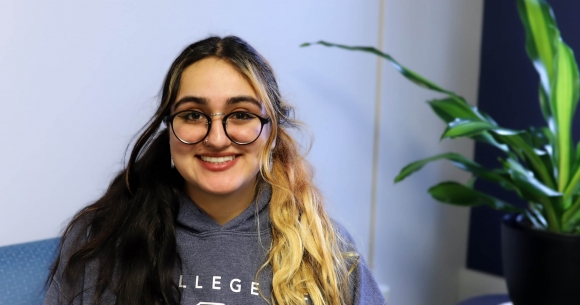 CSM Senior Using Experience to Help Others Through Psychology Major
Yaramy Hernandez-Marin was attending community college when she began to wonder how she would continue her education. The Fort Dodge, Iowa, resident was an undocumented immigrant without Deferred Action for Childhood Arrivals (DACA). She came to the United States from Mexico with her mother when she was just four years old.
She searched the internet for private scholarships. That's when she found College of Saint Mary and the Misericordia Scholarship, which opens the door to education for undocumented students of diverse backgrounds who are not eligible for federal assistance. The scholarship is donor funded.
"It's very important because it helps out a group of people who wouldn't have any other opportunities," Yaramy said. "If I hadn't received this scholarship, most likely, I would have had to get married or get a job."
The scholarship has impacted not only Yaramy, but also her younger brother, who is an American citizen and looks up to his older sister. "Because he was born here, he doesn't always understand how difficult and different it is for me to obtain opportunities like him," she said. "But because I'm going to college, he's now looking more into going to college."
As a child, due to her status, Yarmay had a hard time relating to other kids, which caused mental health issues. However, it also led her to her major at CSM: psychology. "I thought it was important for me to help others," she said. "I thought psychology would be good. That way, I could learn more about it and be more helpful to other people."
Yaramy also is minoring in Spanish.
This past summer, Yaramy and two other CSM students attended the Mercy DC Justice Advocacy program in Washington, D.C., to learn about environmental advocacy. The program was developed by the Conference for Mercy High Education and the Sisters of Mercy Institute Justice Team. Yaramy is a Justice Scholar for the Sisters of Mercy and works for them at their Omaha office. "I think it's really been helpful because you get to see other perspectives," Yaramy said. "Working with them has helped me become a better person because now I'm more aware of what I do and how I can help others."
In addition to her studies, Yaramy is a member of the CSM Flames bowling team. Yaramy began bowling when she was a senior in high school after a friend asked her to join the team. Having never bowled, she had to learn the game. She continued bowling in community college. At CSM, Yaramy has found support and friendship.
Yaramy is also a member of Student Senate, Campus Activities Board and serves as a residential advisor. She's also created her own club, the Secret Cooking Society. The group is planning different events, including a "tour around the world." "People from different cultures bring a dish specific to their culture and then explain their culture," Yaramy said.