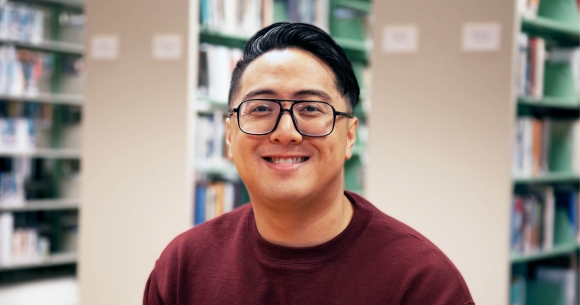 PA Graduate Student Enjoys Small Class Size, Support at CSM
Master of Physician Assistant Studies
After earning his undergraduate degree in biology from the University of California-Riverside, Andre Saldana was unsure which career path to take. His parents wanted him to go to medical school to become a doctor. "I was at a crossroads after graduation," he said.
While working as a medical scribe in an emergency room, the Moreno Valley, Calif., resident met several physician assistants (PA). Their role in the medical field interested him. Becoming a PA was the route he wanted to take.
His research led him to College of Saint Mary's Master of Science in Physician Assistant Studies program. The mission aligned with what he wanted to do, so he applied. "A lot of the staff reached out during the application process," Andre said. "This seems like a pretty dedicated program for the students."
Andre also liked the idea of living in Omaha. He had yet to live anywhere else in the U.S. "I thought it would be a good experience to try some other part of the country and see a new lifestyle and culture," he said.
The size of the program also appealed to Andre. The intimate class size – there are 28 in his cohort – proved to be an asset while taking classes as the students learned different clinical exams, such as practicing physical exams on each other and doing different procedures.
There was also plenty of support from faculty and staff. "They care a lot about what's going on in your life," Andre said. "They're not shy about sending an email to see how we're doing. You feel like you get to know them on a personal level, and you get support."
Andre, who will graduate in August 2023, started his first set of clinicals in late August in the same emergency room where he worked prior to beginning his PA classes. "They've been pretty good about working around what our preferences are as far as whom we want to be our preceptor," Andre said of CSM PA professors.
Andre may serve his second clinical in a dermatology clinic with a CSM alum. For the third clinical, he'll return to Omaha and work at OneWorld Health.
Though he's keeping an open mind on what specialty he'd like to work in, Andre said he is leaning toward working full-time in an ER. He enjoys the fast-paced atmosphere it can provide. "It's always something new every day," he said. "I like to keep life interesting."