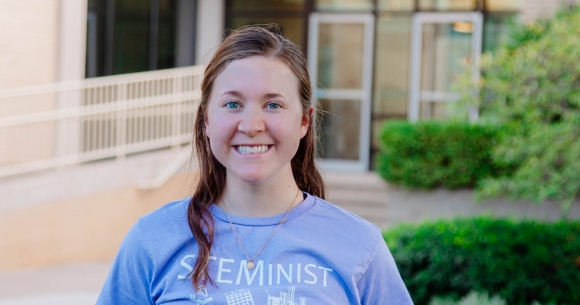 INBRE Scholars Program Gives CSM Senior Research Opportunities
Faith Kozisek clearly remembers the day she was surprised with College of Saint Mary's prestigious Marie Curie Scholarship at David City Aquinas High School. "I was overwhelmed with gratitude. It got me really excited for the future," she said. "It also gave me direction. This was my sign that I needed to go to College of Saint Mary."
The scholarship provides significant financial support and resources to outstanding young women pursuing study in STEM majors – biology, chemistry, math, or human biology.
Marie Curie Scholars receive up to $20,000 annually for four years in gift aid. In addition to having access to substantial financial resources and facilities, participants also receive free tutoring, have opportunities for undergraduate research, and have access to top programs like the National Institute of Health and NASA research fellowships.
Faith, a senior, is majoring in biology and minoring in chemistry and theology. She was selected as an INBRE Scholar in May 2020. Established in 2001, the INBRE Scholars Program was created to expose students to professional biomedical research and build a statewide biomedical research infrastructure between undergraduate and graduate institutions. Students enter the program after completing their sophomore year of college upon the recommendation of their college professors. It is a two-year comprehensive training program designed to prepare students for graduate school.
Faith has worked with Dr. Sujata Chaundhari, assistant professor in the Department of Pathology and Microbiology at the University of Nebraska Medical Center. Faith performed research on "The physiological significance of superoxide dismutase in Staphylococcus Aureus." The research won her the 2021 Richard Holland Future Scientist Award from the Nebraska Coalition for Lifesaving Cures. She also received an honorable mention certificate and $350 during the virtual INBRE conference in August 2021.
In addition to bacterial research, Faith has also studied insects. "I think it's very beneficial to be able to apply what we're learning in the classroom," she said. "Hopefully, I'll be published in a research article someday, so that it will get me out there and help me in the future to put that on my resume."
CSM's small campus gave Faith the opportunity to get involved early in her college career. "Any club you could think of, I've been in it," she said. "My freshman year, I signed up for 21 clubs."
Faith is currently the president of the Steminist Club, a position she's held since her sophomore year. She's also been involved in the knitting club; Sparks Club; Animal, Plants and Nature; and The Green Team. "I felt like it was easy to get myself out there. I was very involved. Since it's such a small campus, I had a lot of friends right away," she said.
The environment on campus also aided Faith academically. "I think knowing your professors on a personal level holds you accountable," Faith said. "Out of respect for these people that I know so well, I want to do the best I can and give a lot of time, effort and energy into my studies."
Faith will graduate in May. While she is considering graduate school to become a physician assistant, she is planning to take a gap year and join a peace corps for mission work. "I'd like to go overseas and experience a different lifestyle and culture," she said. "There are also some opportunities in the United States, so if that's as far as I can get, that's fine."