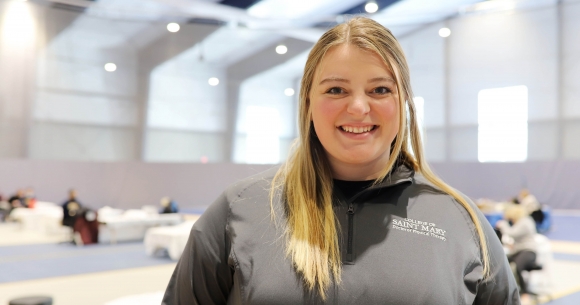 CSM Student Uses Injury Experience as Motivation for Doctor of Physical Therapy Degree
Doctor of Physical Therapy
Morgan Weeg always had an interest in the medical field though it wasn't clear what she would do. Through internships, she discovered physical therapy and began working with children in a PT clinic.
"I just kind of fell in love with the profession," she said.
Then, as a junior at Simmons University in Boston, while playing volleyball, Morgan injured her knee, which required surgery and physical therapy. "I got to see both sides of it and really appreciated what all the profession had to do for its patients and the community," she said. "That's something I want to contribute to as well."
After earning her undergraduate degree in exercise science, Morgan moved to Elk Point, S.D., to be closer to family. While coaching volleyball, she began planning for graduate school. Morgan heard about College of Saint Mary's Doctor of Physical Therapy program through family and friends and from CSM Volleyball Coach Rick Pruett.
"When I learned more about the blended program at CSM, I appreciated the ability to stay at home, keep expenses low, have the support of my family close and nearby, and be in an environment that I knew I could thrive in," Morgan said.
The program offers a blended-learning and competency-based model with core faculty certified in online instruction. This allows students to study from the comfort of their own homes while attending onsite program sessions throughout the year.
"Having those onsite weeks that we come to campus for a week, those two times each semester, has been something that I really appreciate because that gives us the time to refine our skills, get all those hands-on techniques and we still get everything an in-person cohort would be able to achieve, but we get to do it from the comfort of our homes," Morgan said.
Morgan said she and her classmates had created their own community even though they often see each other over Zoom. "We are very in touch through group text messages. We still do study groups as anyone else would, you just do them through Zoom."
"But when we come in person, it's great to see everyone's faces and get to work with them in person as well," she added. "You do create your little community and friends just like you would if you were in person. I've been gracious enough to have that kind of friend group and people I trust and work with."
For the week-long intensives, Morgan and her classmates stay focused. She said her professors do "a great job" explaining expectations and preparing students for those sessions, which help them expand on what they've already learned and refine those skills.
"While it seems intensive and long weeks as it is, those mornings and afternoons, you value because you're getting better, you feel yourself getting better," she said. "At the beginning of the week to the end of the week, your confidence level is night and day – at least mine is."
Morgan is expected to earn her degree in December 2023. Though she hasn't decided what she'll do following graduation, she is open to wherever physical therapy might take her.
"I think there is a lot this profession can offer, and I'm really excited to explore all my opportunities," she said. "I've always had a passion for working with kids, so I could see myself working in pediatrics. But with my sports background, I also could see being more of an orthopedic or sports medicine kind of specialty as well."
It's possible Morgan could find herself in Omaha. "I do like what Omaha has to offer. I've been enjoying the area and could see it maybe being a future home."
By Leeanna Ellis