Alumnae Spotlight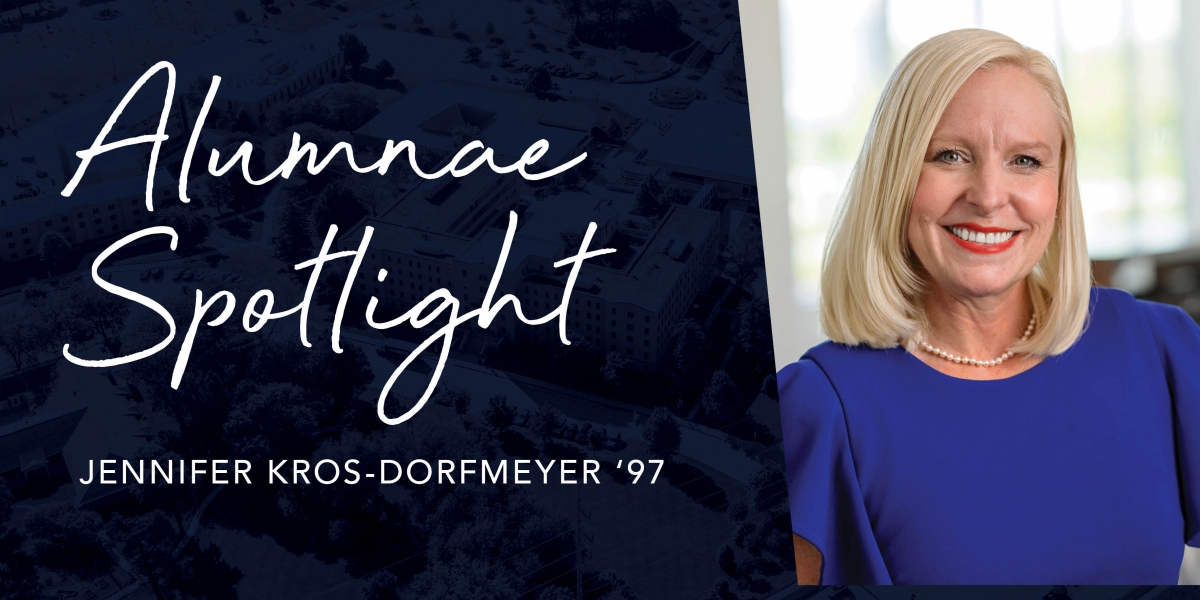 Jennifer Kros-Dorfmeyer '97
After spending her freshman year of college in Kentucky, Jennifer Kros-Dorfmeyer '97 had the opportunity to return to Omaha and be a part of the first-ever collegiate soccer program at College of Saint Mary.
"Being able to come back to Omaha to play in front of family and friends was extremely exciting for me," she said. "Not to mention getting a solid education at a school focused on developing women academically and spiritually was a no-brainer and something I didn't want to pass up."
Jennifer found success on the field and in the classroom. She was named Midlands Collegiate Athletic Conference Defensive Player of the Year in 1996, among other honors. She earned her bachelor's degree in creative arts and communication in 1997.
Today, Jennifer is vice president of marketing for Valmont Industries, overseeing the company's corporate marketing. "As I've progressed in my professional career through the years, I can say that CSM played a role in setting me up for success and influenced the person I am today," she said.
CSM provided Jennifer with many opportunities, prompting her to want to pay it forward through her time and talent. "It is important that we inspire the next generation of female leaders here in Omaha to do even greater things in this challenging world," she said.
Jennifer is the honorary chair for CSM's inaugural Ignite the Flame event, supporting and celebrating the importance of Flames Athletics. The event, which is April 25 in the Lied Fitness Center Fieldhouse, will feature guest speaker Maurtice Ivy, a former Husker women's basketball player who was inducted into the Nebraska Athletics Hall of Fame in 2020. Ivy will receive the Ignite the Flame Community Impact award for her work in mentoring underserved girls and encouraging them to participate in sports.
As a former CSM student-athlete, Jennifer hopes others will see what she already knows about the University.
"CSM is one of the best-kept secrets here in Omaha that's providing women of diverse backgrounds the opportunity to get a great education, and for those who desire to play sports at the collegiate level, they can do that as well," Jennifer said. "This is an opportunity to begin telling our story to the world and connecting to our mission as a college that believes every woman has access to these opportunities."