Endowed Funds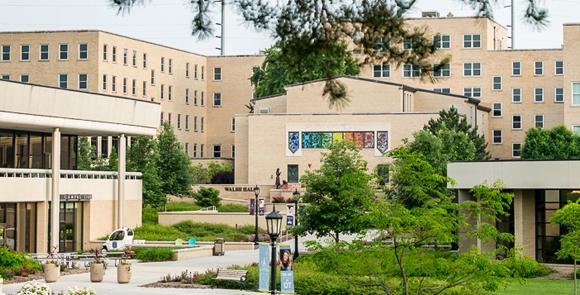 Endowed funds play a vital role in the financial sustainability of College of Saint Mary, providing ongoing funding that supports scholarships as well as other important projects and programs. We invest the funds, leaving the principal intact, and use only the income generated each year to support your intent. Because only the interest on the principal is actually distributed, endowed funding can further College of Saint Mary's mission for years to come.
A donor may initiate and name an endowed fund that will build over the years to fulfill a purpose specified by the donor such as nursing scholarship, fine arts programming, etc.
We are blessed to have received numerous endowment gifts from our alumnae and friends over the years. If you would like more information about establishing an endowment at College of Saint Mary, please contact tcampbell [at] csm.edu (Terri Wachtler Campbell), Vice President for Alumnae & Donor Relations, at 402-399-2419.
Through the generosity of College of Saint Mary Alumnae and Donors, endowed and annual scholarships underwrite tuition or book assistance to students.  Scholarships include the following:
Albertus Magnus Research Scholarship  

Olive Arkoosh Endowed Scholarship

Baburek`37/Deeths`62 Endowed Scholarship

Coreen Barba`02 Memorial Scholarship

Jesse J. and Angela M. Bavaresco Memorial Scholarship

Carl and Peg Bendixen Endowed Scholarship

Edmund and Bernadette Bosin Memorial Scholarship

Mary Schwertley Brown/Sally Bisson Endowed Scholarship

Hortense P. Butt Memorial Scholarship

Callone `63/Flynn Endowed Scholarship

Meg & Ronald Cardella Scholarship

Elizabeth Carlin Schultz`52 Endowed Scholarship

Melanie, Joanne & Vaughn Carlson Endowed Scholarship

Mrs. Frank Cech Memorial Scholarship

Class of 1940 Scholarship

Class of 1962 Scholarship

Rose Anderson Clough`56 Memorial Scholarship

Patricia Colchin Lavey`52 Endowed Scholarship

Luke and Shirley Coniglio`60 Endowed Scholarship

Sr. Norita Cooney, RSM Memorial Scholarship

James M. Cox Foundation Scholarship

Dr. C. C. and Mabel L. Criss Memorial Foundation Scholarship

Mary Cronin`92 Memorial Scholarship

Colleen Dostal Stormberg Memorial Scholarship

Bernice M. Ebel Memorial Scholarship

Patricia Ann Eckardt Memorial Scholarship

Doris Jaax Engler`46 and Leonard P. Engler Endowed Scholarship

Harvey D. Ferer Memorial Scholarship

John J. Franey Memorial Scholarship

Paul and Rachel Gallagher Scholarship

Joan B. Halsted`79 Memorial Scholarship

William Randolph Hearst Foundation Scholarship

Sr. Mary Mechtilde Hill, RSM Scholarship for Academic Excellence

Nancy Glatter Hittner`60 Memorial Scholarship

A.F. and Ruth Jacobson Memorial Scholarship

Beatrice Houston Jacques`42 Memorial Scholarship

 

Kathleen Turner Jeffries Memorial Scholarship

Leona M. Kernen Endowed Scholarship

Kersey-Geisler Endowed Scholarship

Peter Kiewit Foundation Scholarship

Blanche Laughlin`62 Memorial Scholarship

Joan Laughlin`62 Endowed Scholarship

Les and Phyllis Lawless Endowed Scholarship

Kenneth Lueder Memorial Scholarship

Sr. Mary Christelle Macaluso, RSM`56  Memorial Scholarship

Maggio/Kanel Memorial Scholarship

Elizabeth A. Mannlein`50 Endowed Scholarship

Stephen T. McGill Memorial Scholarship

Rachel M. Micek Memorial Scholarship

Clara and Henry Miller Memorial Scholarship

Tim Moylan Memorial Scholarship

Joseph F. and Helen Clare Murphy Family Scholarship Fund

Kathy Meisner Nickel '02 Nursing Scholarship

Imelda Nolan Memorial Scholarship

Associate Professor Claire & Betty'84 Oswald Endowed Scholarship

Helen Russell Memorial Scholarship

Madelene McKenna Schaber Scholarship

Tom and Ann`84 Schlosser Endowed Art Scholarship

Harriett and John M. Shonsey Memorial Scholarship

Alberta Marie Sipes/Rita Sipes Pearsall`74 Endowed Scholarship

Sisters of Mercy McAuley Scholarship

Paul and Annette Smith Endowed Scholarship

Morton and Ella S. Steinhart Foundation Memorial Scholarship

Dr. Maryanne Stevens, RSM Endowed Scholarship

Mary Lorraine Stevens Memorial Scholarship

Mary Ann`63 and Fred Strider Endowed Scholarship

Dr. Electra O'Rourke Strub`40 Memorial Scholarship

Union Pacific Foundation Scholarship

George and Susan Venteicher Scholarship

Vernon and Kathryn Von Seggern`33  Endowed Scholarship

Sr. Constance Walsh Memorial Scholarship

Claude Wynn Leadership Scholarship