Alumnae Spotlight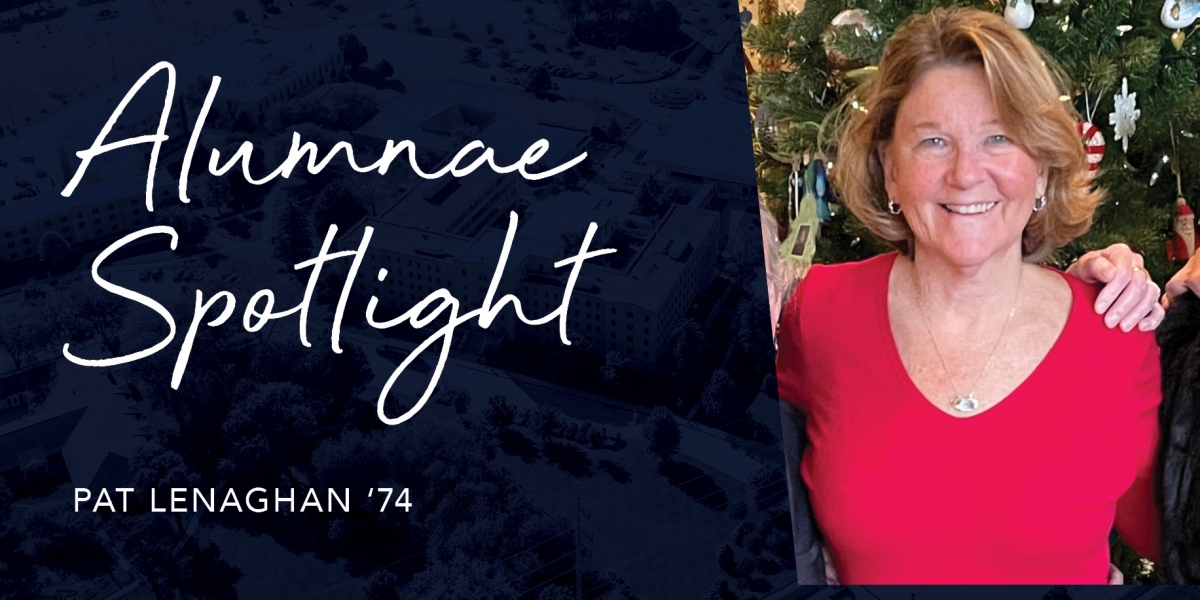 Pat Lenaghan '74
Pat Lenaghan '74 is hoping her more than 45 years of nursing experience and the knowledge of other College of Saint Mary nursing graduates can help those getting ready to enter the field.
Pat serves as the president of CSM's newly-formed Nursing Advisory and Alumnae Board (NAAB), which is designed to engage more alumnae talent and experiences to enhance CSM's nursing programs.
"The chief function of the NAAB is to advise and make recommendations regarding healthcare matters and bring expertise and influence on educational affairs at CSM," said Terri Campbell, vice president of alumnae and donor relations. "The board also serves as a link between CSM and the community to bring recognition and to promote the college."
Pat, who previously served as president of a similar board at Creighton University, worked with Terri to establish CSM's board. "We started with alumnae who live in the Omaha area," Pat said. "Later, we will expand and invite alumnae who live elsewhere."
The board plans to interface with students as much as possible. "I could see the nurses in the community wanting to do that," Pat said. "I'd like to do something for each class so that they know we're here and can reach out to us if they need something. I also hope that they start thinking of this as a good committee to be involved in after they graduate," she added.
Pat received her associate's degree in nursing from CSM in 1974. Following graduation, she began working in the intensive care unit at the Douglas County Hospital in Omaha. She later worked in the emergency department at the University of Nebraska Medical Center, where she also earned her bachelor's degree.
After earning her master's degree from Creighton University, Pat was recruited to work for Methodist Hospital in Omaha. "A friend of mine was working at Methodist and said they needed a person to elevate the standard of nursing in the emergency department," she said.
At Methodist, Pat served as the clinical nurse specialist for a number of years, bringing in advanced cardiac life support, pediatric life support, standard courses, and other triage programs. "The nurses went from just putting patients in rooms to doing in-depth patient assessments," Pat said. "We developed protocols so the nurses could do lab work, X-rays, and other diagnostics. That's where I began to feel empowered in nursing and felt I was making an impact."
Pat later worked as an executive, overseeing the management of the emergency department, obstetrical services, and a health clinic. During that time, Pat helped develop and implement Omaha's first Nurse Sexual Assault Examiners Program. "We really tried to improve care for those victims," she said.
Because of her work with Methodist's emergency department, Pat became involved in emergency preparedness for Omaha. "I was interfacing with several community agencies as we were trying to coordinate how we work together during a major disaster," she said. Those meetings led to the city receiving $600,000 in federal funding for emergency preparedness. "We were the first city in the country where the funding went to a group of healthcare people," Pat said. "That's because we were very organized and all of the agencies at the table were talking."
In those same meetings, Pat met Dr. Phil Smith, who oversaw the infectious disease department at UNMC. "He wanted to start the Nebraska Biocontainment Unit. He didn't have anybody to do that, and he thought I was capable," she said.
It was the first public Biocontainment Unit for Infectious Diseases to care for high-risk patients in the U.S. Pat helped open the unit in 2005 and ran it until 2007. Since that time, the unit has cared for patients with Ebola and COVID-19.
Today, in addition to her role on the NAAB, Pat is president of Lenaghan & Associates Inc., a hospital and health system consultancy.
Those who would like to be considered to be a member of the NAAB should contact Dr. Christi Glesmann, director of undergraduate nursing, at cglesmann [at] csm.edu.