Alumnae Spotlight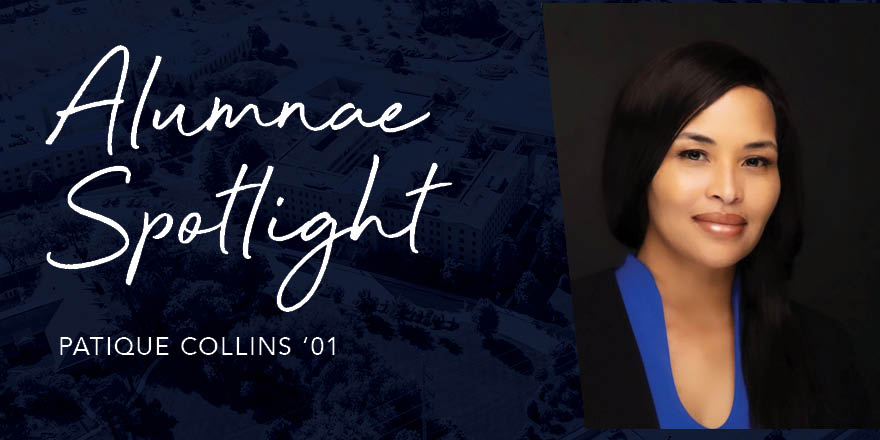 Patqiue Collins '01
Patqiue Collins '01 is determined to bring out the best in anyone she meets. It's a skill that she learned while attending College of Saint Mary. She graduated with a bachelor's degree in organizational leadership through the University's former 60 Saturday program, which allowed students to take classes on Saturday while still working full-time.
Though Patique was a driven worker, she wasn't very vocal and rather shy.
"At College of Saint Mary, the class was so intimate and uplifting, it didn't allow you to be shy," she said. "Even if you wanted to be quiet and soft-spoken, it wasn't an option. It truly brought out some qualities in me. It gave me the foundation to bring it out in myself, so I have made that contagious, and I do it in everything."
For the past 20 years, Patique has worked as a recruiter in human resources for companies like CHI Health and Children's Hospital & Medical Center. She's currently the recruitment and career development manager at American National Bank in Omaha.
In addition to her role in the corporate business world, Patique owned and operated Patique's Physiques Fit Camp, which specialized in health care and training for obesity, near 68th and Maple streets. She's currently in the process of reopening the facility at a new location.
Patique started the gym after noticing that not everyone felt comfortable in the facilities where she was training and teaching.
"I wanted an environment where people felt comfortable," she said. "I wanted an environment where they felt like they could do modification, and they felt encouraged."
Workout classes were between 5 and 6:30 a.m. Patique also took clients to the grocery store to help with nutrition and would check up on them if they didn't show up to class, even stopping at their workplace.
"I think one of the things that set me apart from other people in any place that I dwell is making people feel good about who they are," she said.
For six years, Patique only focused on the fitness center. She returned to the business world after she realized she missed helping people develop their careers.
"Now I can do both. I can help you grow in your career, but I can also help you grow, physically or mentally, whatever that looks like for you," she said. "I'm all about that total body experience."