Alumnae Spotlight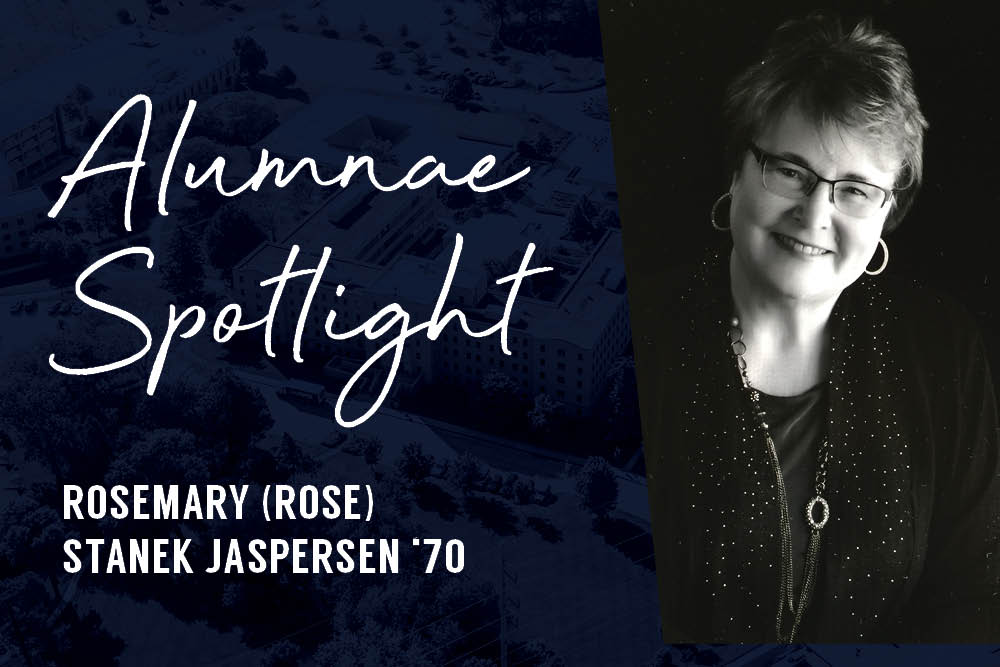 Rosemary (Rose) Stanek Jaspersen '70
With a career focused on helping develop and grow businesses, Rosemary (Rose) Stanek Jaspersen '70 hopes her experience can help College of Saint Mary students. She currently serves as a volunteer mentor in CSM's RISE Mentoring Program, which pairs an alumna with a current student.
"I think of myself as being a possible link," Rose said. "I might not know answers, but I know resources."
After graduating from CSM with a degree in history and minors in education and business, Rosemary, who lives on a farm between Oakland and West Point, taught kindergarten through fourth grades in a rural school district until her children were born. She returned to the workforce when her youngest child started school.
Rose first worked as a training consultant for the University of Nebraska-Lincoln Extension, in which she co-taught business management with a professor from Wayne State College.
In 1990, Rose was hired by the Center for Rural Affairs in Lyons, Neb., as a program leader, managing four project areas, including the Rural Enterprise Assistance Project (REAP). Rose helped develop and lead the program, an innovative microenterprise project for rural areas. At the time, the project focused on businesses with five or fewer employees. Today, the program is now the largest microprogram serving all of rural Nebraska.
Rose also oversaw the Family Farm Opportunity Project, a clearinghouse for linking those who want to farm with those who want to retire; the Family Farm Sustainable Ag Project, an agricultural research and implementation strategy that teaches farmers about sustainable approaches; and the Marketing Alliances Project, a marketing strategy for small- and medium-sized farm-based enterprise to retain more value for products grown.
In 2000, Rose became executive director of the Nebraska Enterprise Fund (NEF), a Certified Development Financial Institute of the U.S. Treasury Department. The organization's mission is to ensure Nebraska micro and small businesses have access to capital, training and technical assistance. The NEF offers loans of $1,000 to $150,000 to these businesses.
Rose retired in 2014.
Rose decided to serve as a mentor after learning about the RISE Mentoring Program from Alumnae and Donor Relations. "I could see value in the concept of it," she said.
For the 2021-22 school year, Rose has been paired with junior Paige Keefe, a business major. The two initially met and had lunch together. Now, they often exchange texts.
"I try every week or two weeks to drop a text to her," Rose said. "I'm here. I'm thinking of her. I've shared things that might be helpful in her life beyond graduation."
Rose and Paige plan to continue their mentoring relationship next year as Paige prepares for graduation.