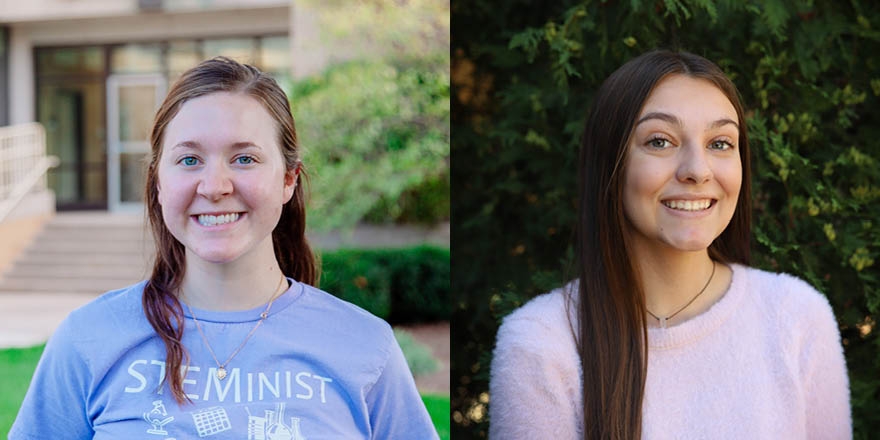 2 CSM Graduates Join Mercy Volunteer Corps
Two College of Saint Mary graduates will take the spirit of service and compassion they learned on campus to help others through the Mercy Volunteer Corps.
Faith Kozisek of David City and Grace Rooks of Papillion, both of whom will graduate May 20, will begin their volunteer efforts this summer. Kozisek will spend a year in the Population Health Department at Mercy Medical Center in Baltimore, Md., while Rooks will devote six weeks to the Mercy Ecospirituality Center in Benson, Vt.
Mercy Volunteers work in education, healthcare, and social services and enter relationships with people experiencing injustices. In a spirit of mutuality, volunteers cultivate mercy and justice in the world by embracing compassionate service, social justice, spiritual growth, and a simple lifestyle in community, according to the organization's website. Mercy Volunteer Corps is a partnership with the Sisters of Mercy of the Americas, also affiliated with CSM.
Kozisek, who earned a degree in biology and minors in chemistry and theology, learned about the volunteer opportunity through CSM theology associate professor Dr. Emily Kahm. She also heard from a volunteer who served.
"I liked that their mission and core values are similar to those of CSM," she said. "They also have a good call to community and faith, which are very important to me."
Kozisek's year-long experience will begin in August. She will be the first member of the Mercy Volunteer Corps to serve in the new department at Mercy Medical Center. She will serve the homeless and people experiencing poverty. Her work will include social work directly tied to healthcare plans. She'll also help operate a food pantry, blood pressure clinics and give classes.
The biology major hopes to gain more experience in healthcare as she plans to enter nursing or medical school after she completes her volunteer work.
"I hope that it will open my eyes to becoming a better healthcare professional and have a greater understanding of what people are going through," she said.
Rooks, who earned a degree in human biology and minors in psychology, chemistry and sustainability, learned about the volunteer corps after attending the Mercy DC Justice Advocacy program developed by the Conference for Mercy Higher Education and the Sisters of Mercy Institute Justice Team.
"I really liked what they were talking about, so I took a flyer," she said.
Rooks applied and will begin her six-week volunteer opportunity on June 4. The Mercy Ecospirituality Center is a sponsored work of the Sisters of Mercy. It is a spiritual retreat, which includes a farm. Rooks will help care for the animals and bees on the 39-acre property.
"They said it's a good place for self-reflection and just being with nature," she said. "It's a very remote area."
Both Rooks and Kozisek credit CSM for giving them a sense of service and a strong foundation, allowing them to continue their volunteer efforts beyond college.
"CSM opened my eyes to the whole sustainability aspect and my love of volunteering," Rooks said. "Without both, high school Grace wouldn't have even thought about going to a farm for six weeks."
By Leeanna Ellis