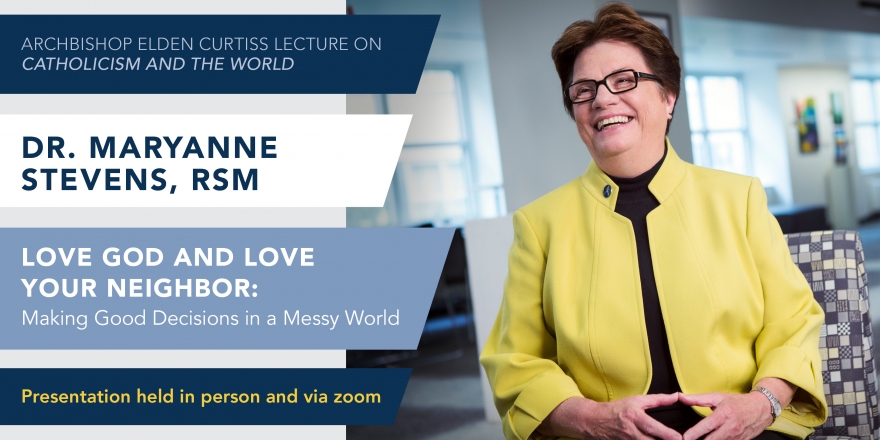 College of Saint Mary to Host Curtiss Lecture on Catholicism
Thursday, August 10, 2023
OMAHA, Neb. – Dr. Maryanne Stevens, RSM, will present the 14th annual Archbishop Elden Curtiss Lecture on Catholicism and the World at noon, Tuesday, Sept. 19, in Gross Auditorium at College of Saint Mary. The lecture will focus on "Love God and Love Your Neighbor: Making Good Decisions in a Messy World."
Dr. Stevens served as CSM's president from 1996 to 2023. She now holds the title of president emerita. She joined the Sisters of Mercy in 1966 after graduating from Mercy High School in Omaha. She holds a bachelor's degree in math and sociology from Misericordia University in Dallas, PA, a master's degree in theology from St. Louis University, and a doctorate in religion and education from Boston College. Prior to her 27 years at CSM, Dr. Stevens was chair of the Theology Department at Creighton University.
Thanks to the generosity of Archbishop Elden Francis Curtiss, CSM has offered an annual lecture devoted to Catholic thought and its influence on society since 2009. The lecture engages the CSM and broader communities about pertinent topics in the Catholic tradition.
"Lecturers are nationally recognized experts who show students, faculty, staff, and community members how the Catholic tradition can inform and be informed by events, ideas and practices in the contemporary world," said Dr. Jennifer Reed-Bouley, CSM theology professor and program director. Previous speakers include Dr. Aana Marie Vigen, professor of Christian Social Ethics at Loyola University Chicago; Sr. Terri Bednarz, RSM; Dr. Mary-Paula Cancienne, RSM; Dr. Kim Lamberty; Dr. Patricia Talone, RSM; and Sr. Helen Prejean, CSJ.
The event, which is free and open to the public, can also be viewed on Zoom. To register, go to CSM.edu/CurtissLecture.