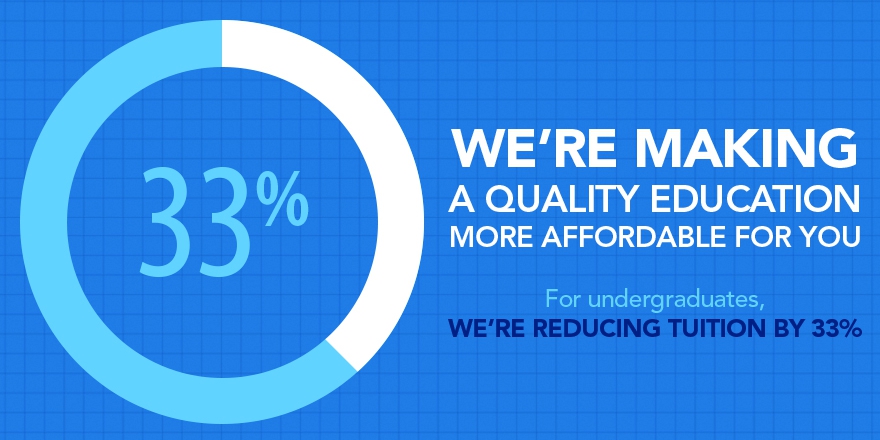 College of Saint Mary Reduces Student Tuition 33 Percent to Take a Stand Against the Trend of Rising Tuition Costs
Tuesday, October 18, 2016
Undergraduate student tuition will be reduced $10,000 and
continuing undergrads will receive a minimum reduction of $1,000 in out-of-pocket costs
In attempt to stem the national trend of rising post-secondary education tuition costs, the College of Saint Mary Board of Directors today announced a plan to lower tuition costs by 33 percent for all of the university's undergraduate students.
The board decision was announced today and cost savings will be shared among all undergraduate students, continuing and new. Tuition will be reduced by $10,000 and continuing students should see a reduction in out-of-pocket costs of at least $1,000 each after grants and scholarships.
"This is an effort to curb the rising cost of tuition in reality and perception," said Dr. Maryanne Stevens, RSM, president of College of Saint Mary. "We are taking this action because it is the right thing to do for our students. High post-secondary education costs and student debt loads are spiraling upward and out of control. Something must be done to make college education more affordable and accessible to all."
According to a study by the American Action Forum, over the past 30-plus years college tuition has more than doubled, outpacing inflation by 2 percent to 4 percent, while pushing the volume of student debt to more than $1.3 trillion.
"Our board has been concerned for several years about high educational costs for our students and their families," said Richard P. Jeffries, College of Saint Mary board chair and an Omaha attorney. "This action supports our mission and, because of our strong enrollment and financial position, it provides an opportunity to lead a conversation on this national issue."
Shabnam Waheed, a sophomore human biology-physician assistant studies major from Elkhorn, Neb., is pleased that College of Saint Mary is taking steps to simplify financial aid and reach more women.
"I applied to more than a dozen schools across the country before deciding to attend college in my own backyard. Understanding what my family and I were actually going to pay was all very confusing. This new plan will help others understand the real costs, and more women like me will look at College of Saint Mary instead of thinking it is too expensive."
"Because the administration has done an excellent job of getting College of Saint Mary enrollment to record-high levels, kept educational quality high, developed new and innovative programs and provided financial stability to the institution," Jeffries added, "the board's task of doing what's right for our students is easy."
Dr. Stevens said the board formed a task force three years ago to study the problem of an unsustainable tuition model of high-sticker price, high discount for its students and their families.
"We wanted to lower tuition and make actual costs more transparent to the students," she added. "The board's challenge was to find ways to lower tuition while using financial aid for its original intent - to provide educational opportunities to needy students."
In previous actions, the board approved eliminating student fees to be more transparent with students and simplify their financial planning. Students will receive an estimate of their 2017-18 net costs later this month. Financial aid staff and counselors will be available to answer any questions. The board task force will monitor results of the tuition reduction as well as continue efforts to keep education affordable and accessible for College of Saint Mary students. For more information, go to www.csm.edu/tuition.
For more information, contact blong [at] csm.edu (Brittney Long) at 402-399-2454.