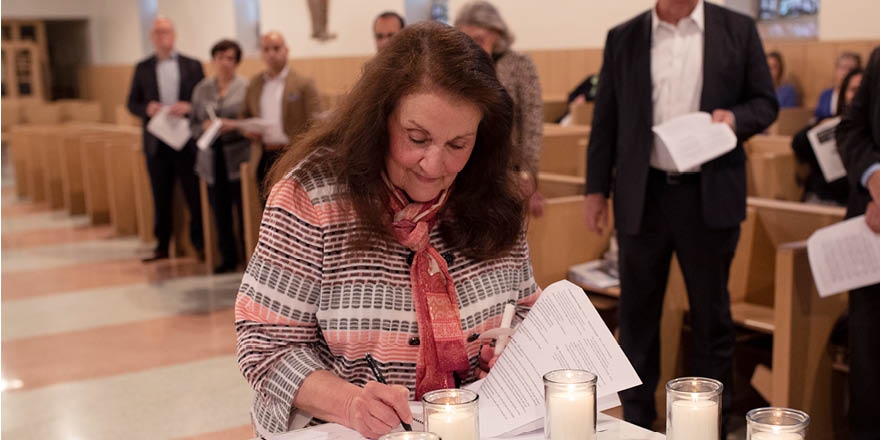 CSM Board Signs Covenant to Continue Affiliation with Sisters of Mercy
Prior to its regular annual meeting, College of Saint Mary's Board of Directors signed a covenant continuing the University's affiliation with the Sisters of Mercy.
The signing, completed by Board Chair Deb Macdonald, J.D., took place Thursday, Nov. 10, during a prayer service led by Liz Ludvik, director of spirituality, service and social justice, in Our Lady of Mercy Chapel.
The Constitutions of the Sisters of Mercy regarding institutional sponsorship contextualizes the spirit of the covenant. It reads: "As Sisters of Mercy, we sponsor institutions to address our enduring concerns and to witness Christ's mission. Within these institutions, we, together with our coworkers and those we serve, endeavor to model mercy and justice to promote systemic change according to these ideals."
"The Sisters of Mercy have promised to carry out their mission in witnessing Christ's mission in their sponsored colleges and universities," CSM President Dr. Maryanne Stevens, RSM, said. "And so, the elected leaders of these treasured institutions – that is, our board of directors – join the Sisters in that mission, which is of immense value to the Sisters of Mercy, to the church and really to the world."
The service was attended by the board and CSM faculty and staff.