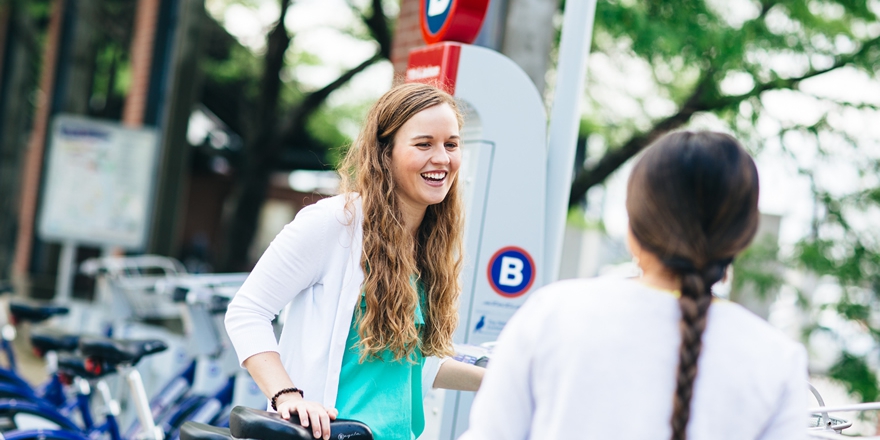 Green Strides - CSM now a part of Omaha's bike-sharing network
This is part 1 of 4 in a series focusing on sustainability at College of Saint Mary.
Thanks to an anonymous donor, College of Saint Mary community members can now bike quickly down to Aksarben Village rather than walk or drive a car. The College is now the western-most station in the Greater Omaha Metro Area's bike sharing system.
Heartland B-Cycle is an initiative of Live Well Omaha, whose vision is to make the Omaha community "the healthiest possible place to live, work, raise a family and enjoy life." It presently has 152 B-cycles at 31 B-stations located throughout Omaha and Council Bluffs. Four are located in Aksarben Village, across the Papio on the east side of the CSM campus.
Bike share programs are popular in major metro areas for tourists and commuters who want an alternative to cars or public transit. University programs are also growing nationally, especially at large campuses, where bikes are used as intra-campus transportation. CSM Chief Administration Officer Kim Savicky says the campus' program is a little different.
"The bikes are available to the public, but we see it being used primarily by students as transportation off campus," she says.
As a smaller, urban campus, walking to and from buildings at CSM is an easy stroll. But traveling to Aksarben Village, a bustling entertainment mecca, might be considered more of a 'stretch of the legs.' B-cycles will enable students, faculty and staff to reach the movie theatre, stores and venues in minutes.
CSM's B-station is located just to the east of the Hillmer Art Gallery entrance. Riders can pick up a bike from the station and follow the sidewalk between Madonna and Hill Macaluso Halls, past the round-about and Keystone Trail, over the Papio Bridge into Aksarben Village.
B-stations located in Aksarben include Aksarben Drive by Blue Cross Blue Shield; 67th & Frances, near Aksarben Cinema; 66th & Center, across from Stinson Park; and 67th & Pine, just north of UNO's Mammel Hall. The B-stations are also located conveniently near bus stops, which brings the greater Metro area within reach. Other B-stations are scattered throughout downtown, midtown and north downtown. A map that shows all existing stations can be found at https://heartland.bcycle.com/.
If used astutely, using the B-cycle system for the 2016-17 academic year will be free: The College is providing a year's free membership for CSM students, faculty and staff. The memberships provide unlimited rides of 60 minutes or less for one year.
B-cycle rides are logged in 60-minute increments. As long as the bike is checked back into a B-station within the hour, the ride is free. Bikes can be checked out for an unlimited amount of 60-minute rides per day. If a ride exceeds one hour, a $4 per additional hour is charged to the rider's credit card.  (The ride between the Hillmer station and Aksarben is less than 10 minutes.)
The solar-powered B-station and cycles fit into the College's sustainability initiatives. It also fits into the College's mission inspiring us to the development of mind, body and spirit. In addition to providing transportation to and from campus, the bikes are great for recreation or staying fit by riding on the popular Keystone Trail.
The wide, picturesque 15-mile trail meanders along the banks of Little Papio Creek, with occasional bridges crossing back and forth. It parallels the east side of campus, and is a popular urban-to-rural corridor for commuter and recreationists.