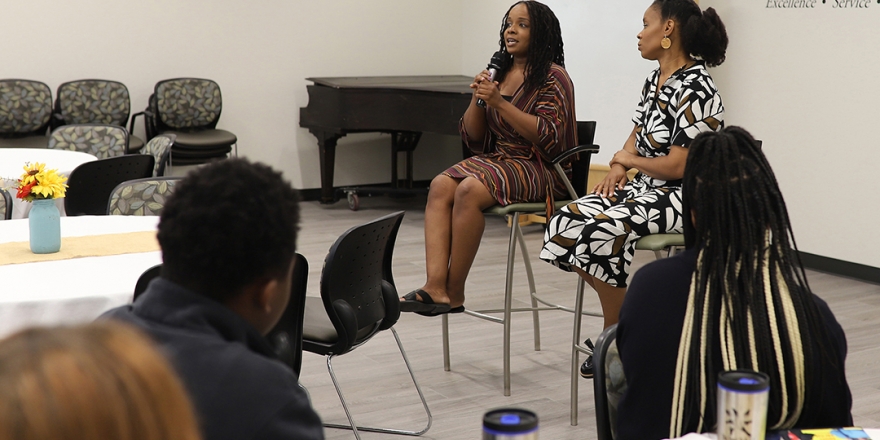 DEI Summit Empowers Students to Stop Racism
Tuesday, September 13, 2022
A partnership between College of Saint Mary and the Lozier Foundation brought students together at a DEI Summit to discuss racism and give them resources to handle situations. Comedian Amber Ruffin and her sister Lacey Lamar were the featured speakers at the summit on Friday, Sept. 2, in the Warde Conference Center on CSM's campus. "I was shocked by how much they knew about racism and how willing they were to learn about it," Lamar said.
Ruffin and Lamar wrote the book "You'll Never Believe What Happened to Lacey (Crazy Stories About Racism)." The book details the racism the sisters experienced in Omaha. The students read the book provided by the Lozier Foundation prior to attending the summit.
Ruffin said she and her sister could relate to the students. "We grew up here, so we know what Omaha, Neb. is like. We know what it's like to go to school here. We understand it," Ruffin said. "When we went to school in Omaha, there were a lot of sad students going through it. But there were zero allies. There was zero support. That's what we saw in there today, and that's what we're excited about."
During the summit, students from five Catholic high schools and the Cues School System met in small groups, facilitated by CSM students, to answer a list of questions prior to meeting in their respective school groups to create an action plan to be voices of change.
Ruffin and Lamar spoke to the students about how they can deal with racism in their day-to-day lives and how they can be better allies.
"I hope they are geared up to stand up for people who are experiencing racism," Lamar said. "I hope they are geared up to speak up for themselves. And I hope that all of them can see a racist situation, understand it's a racist situation and have those tools to stop it, to tell an adult, to be the person who speaks up and says that's not right. There's nothing wrong with talking about racism."
Susan Toohey, director of educational initiatives with the Lozier Foundation, said she hoped the summit would raise awareness. "The biggest goal is that students can be empowered to create change at their schools if they feel it is necessary," she said.