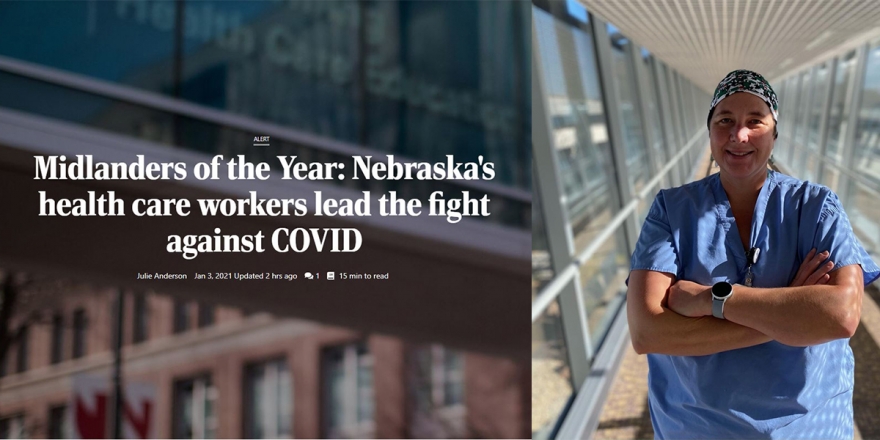 Midlanders of the Year: Nebraska's health care workers lead the fight against COVID
- Julie Anderson - Omaha World Herald medical reporter -
In a year unlike any other in the past century, The Omaha World-Herald honors all the health care workers who are battling the pandemic. They are the newspaper's Midlanders of the Year for 2020.
College of Saint Mary alumna KC Humphrey '15, M'16 (pictured above), an occupational therapist at Omaha's Methodist Hospital, said she and her teammates initially didn't think they would get many therapy orders for COVID-19 patients.
But during the surge, nearly everyone in the department was working with such patients. They included infected people who initially were hospitalized for other reasons, such as after a cesarean section or other surgery.
Therapists typically interview patients when they're admitted to learn what they need and want to be able to do, Humphrey said. They get to know patients and share their loneliness and fear, which can be compounded by being on a lot of oxygen or suffering from dementia.
"We're compassionate people," Humphrey said. "You can't help (but) feel that in your heart."
The therapists are used to seeing patients when they're on the rebound. With COVID-19, they are seeing sicker ones. And in spite of their best efforts, they're losing more people than they did in the time before COVID-19. They can look through the obituary notices and see former patients.
The virus sometimes seems to defy logic. Some patients in their 90s do fine, while others in their 30s, 40s or 50s do not. "It is extremely unpredictable, which can be pretty hard to stomach," she said.
The therapists' jobs are physical, including helping patients up, helping them dress, helping them walk. But now, the therapists are wrapped in protective gear.
Early on, Humphrey said, she would help a patient shower and find herself sweating like she had never sweat before. After a while, she hardly noticed it.
One of the most difficult tasks for her has been working with patients with dementia who don't understand why they're in the hospital, why they're hooked to oxygen and intravenous lines, why they're alone.
The positive side of therapy in the time of COVID is that patients are excited to see the therapists. They seem to enjoy the therapy more and require less convincing.
"Sometimes, that's the most beneficial thing we can do is sit with them and talk with them and provide a few minutes of companionship," Humphrey said.
To help engage the largely isolated patients, therapists have tapped the hospital's leisure closet, a stash of phone chargers, reading glasses, books and puzzles, and organized some fun things.
Humphrey worked with food service staff to send up ice cream sundaes for patients. Earlier this fall, therapists broke out construction paper and scissors during their breaks to craft Christmas decorations for a patient who particularly enjoys the holidays. To connect with patients who are confused, Humphrey will start playing music on her iPhone in the hall, tuck it under her protective gear and enter the room. "Pretty soon," she said, "if they're not singing, they're relaxed, they're smiling."
One positive is that battling COVID has pulled the staff together. "I've gotten to work very closely with people I hadn't before," Humphrey said, "and (to) see people really shine in this time."
View Full Article on Omaha.com. Photo courtesy of Omaha World-Herald.